Gulaab Gang : Movie Review by Prashen H. Kyawal

Gulaab Gang : Commercial Masala Potboiler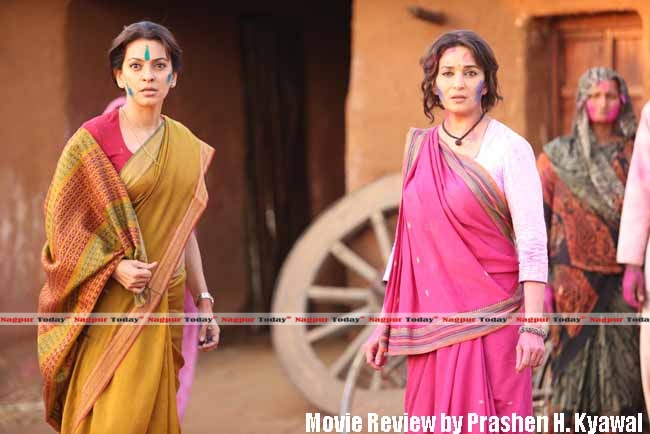 Director: Soumik Sen
Producer: Anubhav Sinha
Music composed by: Soumik Sen
Screenplay: Amitosh Nagpal, Soumik Sen
Cast : Madhuri Dixit (Rajjo),Juhi Chawla (Sumitra Devi),Sumitra Devi,Tannishtha Chatterjee,Priyanka Bose (Sandhya),Sandhya,Divya Jagdale
In the past, a lot of films were based on subject of small villages being exploited by local politicians. Recently too Bollywood is scouting for similar stories in quest of a hero-villain drama which is lacking in civilised urban setting. But barring few exceptions, these are all male oriented films. Gulab Gang is one such rare movie where the hero of the movie is female. Not only that, she does everything like singing, dancing, fighting like any other hero.
Being inspired from the story of Gulabi Gang but not a biographic, Gulaab Gang is an out and out commercial product but with a strong message about women empowerment and need to stand against everything that is wrong. Earlier it was said that the film is based on Sampat Pal's life, but the creators denied this, saying that he is inspired by to her work but the movie is not based on her life.
Story, Screenplay, Direction is by Soumik Sen who debuts as Director with this movie. He has also written the Dialogues with Amitosh Nagpal. Apart from that, he has not only composed the music of the film but also written and composed a song "Teri Jai Ho". Uff, I am exhausted even while writing this.
The story of Gulaab Gang does not dwell much on how Rajjo (Madhuri Dixit) who is eager to get educated, starts an ashram for abused women who are thrown out of house by husbands, raped by sex mongers or ousted by society for any other reason. They wear pink saris produced by themselves and hence are fondly called as "Gulaab Gang". Rajjo is ably supported by her sub-ordinates Mahie (Divya Jagdale) and Sandhya (Priyanka Bose). The story of Gulaab Gang starts from the incidence where the gang has to intervene to get electricity back to the village which was cut by an officer (Atul Srivastava) willing to extract bribe from the villagers. Then it shows various such events like supporting a woman, Kajri (Tannishtha Chatterjee) after being thrown out of home, rescuing of trucks with stolen grocery from ration stores, etc.
However, the story picks up after Sumitra Devi (Juhi Chawala) enters the scene. She is supposed to marry her sister with Arun Shankar who is son of the local politician Pawan Shankar (Joginder Singh) who is her party candidate from that area. However, Pawan Shankar's son Arun Shankar (Sudev Nair) rapes Fiza (Tanvi Rao). On Sumitra Devi's visit to Pawan Shankar about the marriage proposal, Rajjo gatecrashes and makes her aware of the misdeed of Arun. Contrary to Rajjo's expectation, Sumitra takes Pawan's Side and offers her compensation for the rape of Fiza. What happens next forms the tussle between Rajjo and Sumitra Devi.
While the first of the movie forms activities of Gulaab Gang as mentioned above, the second half is about its struggle when Rajjo decides to enter in politics. The story does not have highs and lows and moves at same level. The screen play repeats the similar scenes of Gangs intervention in different kind of injustice and then a song and dance sequence (which I feel was totally unnecessary but the Director could not keep away himself from it as he is the music composer and Madhuri is known for her moves). However, Director Soumik Sen makes up for it by powerful taking of the scenes and powerful editing by Cheragh Todiwala. A film which could've been easily an art house cinema is turned into a commercial masala potboiler by the Director. I am happy that he does not pretend to be making an art house cinema and does what he feels. Nonetheless, he does good job in his debut as Director. Can expect more powerful commercial cinema from him if he gets better scripts and music (maybe by hiring different experts for that)
Music by Soumik Sen is ok but the songs are hindrance in the narration. I think the songs will grow on you with multiple listening but does not help in the movie. Lyrics (Neha Saraf, Soumik Sen and Shreya Narayan) is hard to understand due to rural flair. Choreography by Saroj Khan is ok. Makes it more drab and dull. Cinematography by Alphonse Roy is great. Action by Parvez Shaikh and Feroz are good. Though if Soumik had shown a bit of physical training of the Gang, the action would have been more believable.
The movie is watchable due to strong performances by not only the leading ladies but also by the supporting cast too. Madhuri essays the powerful role with ease and displays varied emotions effortlessly. Watch her when her face lits up with the mention of a promise to build school. Watch her when she gets unexpected reply from Juhi when she complains about the rape. Watch her in her fights. She did full justice to the role. I only did not like the sequences in which she breaks into a song every now and then. It was totally uncalled for. Juhi Chawala portrays the villainous Sumitra Devi remarkably. She is pure evil whenever she comes on screen. Though her character is diluted when she's shown seating like a Don in party office with her supporters and when she leads the attack at the climax and wields a machine gun. She is shown clever enough to keep out of picture while dealing with all the dirty work, then why would she get her hands soaked in blood? I understand that the Director clearly wanted to play to the galleries but now even the single screen first row audience too can not digest such irregularities. Juhi sure will be nominated and may win few awards for best actor in negative role category.
Though everyone from the supporting cast done their job perfectly, a special mention is due for Divya Jagdale and Priyanka Bose who plays left and right hand of Rajjo. Soumik Sen must be applauded for extracting great performances by the cast. It is also a job well done by casting director Prashant Singh.
Overall, Gulaab Gang is an out an out commercial movie which has underlining message of women empowerment, need for education and eradication of corruption from society. I request you to wait and watch the complete end titles which pays tributes to women who are making difference in some or the other way.

Recommendation: Do watch it for the story it brings on screen and for the message it has. People expecting art house cinema must refrain from the movie.

Prashen H. Kyawal