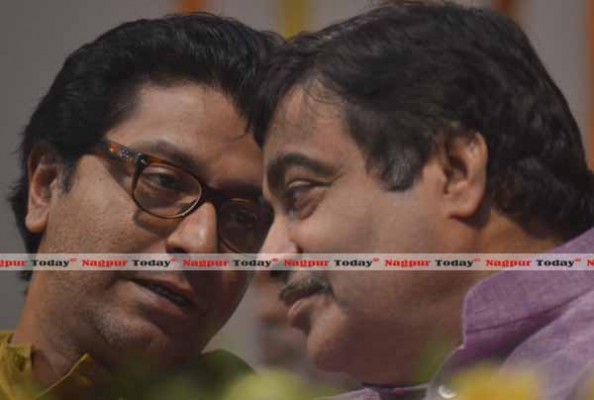 Nagpur News: MNS Chief  Raj Thackeray launched a blistering attack against Gujarat Government and Gujaratis for turning a blind eye and keeping themselves away from extending any help when Latur in Maharashtra was struck by a massive earthquake.
"On the contrary, when Bhuj in Gujarat was hit by an earthquake, Maharashtra extended a helping hand and the Marathi Manus went there and wholeheartedly extended all possible help in rehabilitation of Gujaratis. I was pained by this attitude of Gujarat Government and Gujaratis. When I talk straight forward and the truth, fingers are raised towards me," MNS Chief  roared.
Raj Thackrey was speaking at the Marwadi Foundation's function at Deshpande Hall wherein Senior Activist and "Vidyawant" Gramgitacharya Ramkrishna Belurkar was honoured with the late Prabodhankar Thackeray Memorial Award-2013. Belurkar was presented the Award at the hands of Raj Thackeray. Others who graced the function include former BJP National President Nitin Gadkari, MP Ajay Sancheti, former minister Ramesh Bang, MLC Mitesh Bhangdiya, Ulhasdada Pawar, Foundation's Girish Gandhi, Satyanarayan Nuwal, Vijay Murarka, Govind Agrawal, Anil Rathi, Shrikrushna Chandak and a large number of MNS workers and citizens. Raj Thackeray said, "I am not against those coming to Maharashtra and becoming Maharashtrians. I am against those who come to Maharashtra for votebank. I vehemently oppose them."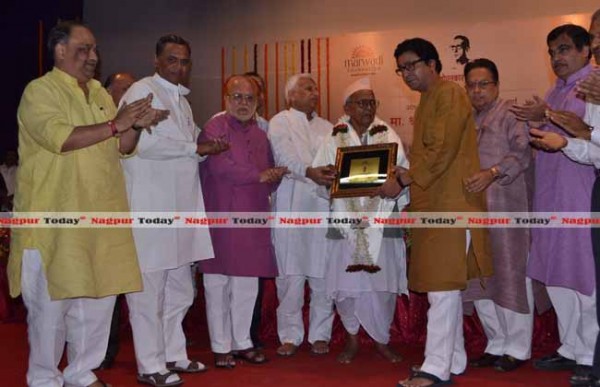 IT IS MY HONOUR:
"The honour bestowed on Ramkrishna Belurkar, who spent his entire life in spreading message of anti-casteism and anti-communalism exhorted by Sant Gadgebaba, Sant Tukdoji Maharaj and my grandfather Prabodhankar Thackeray by visiting village to village and inspired the society and today's youth, is in reality my honour. Probodhankar used to talk tough while revealing shortcomings in Hindu religion for which his opponents even took out his mock funeral. The truth is that there are very few people who try to understand the thoughts. On the other hand, there are a large number of people who create a bad atmosphere by misinterpreting the thoughts", Raj Thackeray asserted.
CHANGE MARWADI FOUNDATION'S NAME TO MARATHI FOUNDATION:
The MNS chef Raj Thackeray took a dig at the Marwadi Foundation office-bearers. "Change the name of Marwadi Foundation to Marathi Foundation. If you work under the banner of Marathi Foundation, it will send a message of loyalty to Maharashtra. Why are you showing discrimination by naming Marwadi Foundation?"
99 PER CENT LEADERS TAKE DECISIONS ON THE BASIS OF CASTEISM: GADKARI:
The BJP leader Nitin Gadkari, speaking on the occasion said, "Today, value of life is moving towards the end. The need of the hour is to create personalities through imbibing value and culture which the Gramgitacharya Ramkrishna Belurkar is doing. It is a matter of pride to honour him. Prabodhankar Thackeray was totally opposed to casteism and regionalism. Today, 99 per cent leaders take decisions on the basis of casteism. However, Balasaheb Thackeray was one leader who never played politics on the basis of casteism and communalism." Gadkari heaped praises on Raj Thackeray on the occasion. Raj Thackeray also opposed casteism and communalism in politics. He always talked of development, Gadkari said.
"GRANDCHILD CAME TO MEET GRANDFATHER":
Dedicating the Award to Sant Gadgebaba, sant Tukdoji Maharaj and Prabodhankar Thackeray, Ramkrishna Belurkar said, "Today, the grandchild (Raj Thackeray) has come to meet grandfather." Belurkar mesmerized the audience by quoting Gramgita messages in his own charismatic style. He said, "Today, the need is for "Chintan" (Introspection). The society is like a child. If it has to be made good, it must be given lessons of good culture