Nagpur News : Nagpur's rising shuttler Vaishnavi Bhave lost to Aditi Mutatkar of Pune in the finals of State Senior Inter- district Badminton Championship here at the District Sports Complex, Parbhani.
The 17-year old Nagpur shuttler almost single handedly guided her team to women's final of the Maharashtra State Senior Inter- district Badminton Championship for the first time. The promising teenager won both her singles and doubles as Nagpur upset Mumbai Suburban in an exciting semifinal. However, the magic could not sustain into the finals.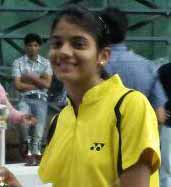 Nagpur Today spoke with city shuttler Vaishnavi Bhale about her performance and journey to the finals.
Vaishnavi Bhale, a student of LAD College said, "I am little upset after losing the finals as it was a very close cut but I am happy that my semifinal's performance helped Nagpur to enter at least in finals".
She told that Jayandra Dhole is the coach for Nagpur team and under his guidance and training, Bhale is practicing for individual matches which will be held from Nov 21 at Parbhani. She added that after one month she will be playing in National Ranking Championship which will be held at Mumbai or Lucknow.
Results for all finals:
Women's:
Pune beat Nagpur 2-0
Scorers were:
Aditi Mutatkar beat Vaishnavi Bhale 21-9, 19-21, 21-10;
Revati Deosthali-Shruti Mundada beat Vaishnavi Bhale-Varada Dixit 21-11, 21-10.
Men's:

Pune beat Thane 3-2
Scorers were:
Subhankar Dey bt Kabir Kanzarkar 21-9, 21-17;
Nikhil Kanetkar bt Eshan Naqvi 14-21, 21-16, 21-15;
NishadDravid-Sudhanshu Medsikar lost to Jishnu Sanyal-Vighnesh Devlekar
24-26, 17-21;
Mayank Gole lost to Jishnu Sanyal 20-22, 13-21;
VarunKhanwalkar-Sameer Bhagwat beat Eshan Naqvi-Abhishek Kulkarni 22-20,
11-21, 21-18.