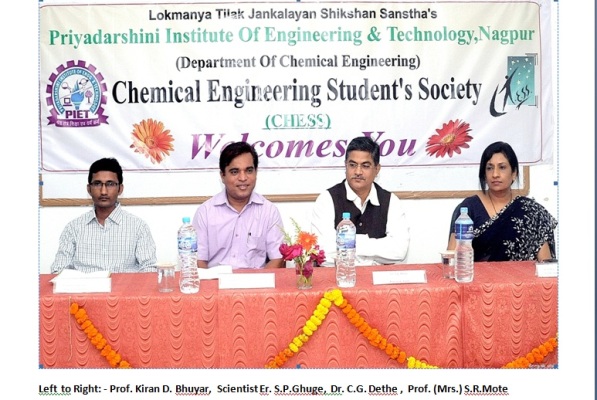 Nagpur News:
A Technical programme was organized by Chemical Engineering Students Society "ChESS-2013" which was held at seminar Hall, P.I.E.T. which was scheduled on Friday, 23 August 2013 at 11.30 am. Er. S. P. Ghuge, Scientist, EIRA Division, NEERI, Nagpur was the chief guest and delivered the lecture on topic "Process risk modeling for chemical industries" at the inaugural function. Dr. C. G. Dethe, Principal, PIET was presided over the function. Prof. S. R. Mote,  Head-Chem.  Engg. Dept. and Er. Kiran D. Bhuyar, Assistant Professor  & Coordinator, ChESS-2013, were prominently present on the Dias. The ChESS program  was inaugurated by enlighten with Divas followed by floral welcome of guest.
Prof. S. R. Mote, explained the objectives of the ChESS-2013 to contemplate upon the emerging knowledge in Chemical Engineering so as to improve the Human life. She has put the departmental overview and achievements under the banner of ChESS.  Dr.C.G.Dethe has guided the students to take benefit of such program to build up bright future. He has also guided the students to enhance the knowledge base by attending such program. Prof.K.D.Bhuyar has extended his sincere thanks towards guest and also red out the brief achievements of Scientist Er. S.P.Ghuge.  Mr. Ghuge  has explained about how to overcome the different risk factor and sugest solution based modeling of it for Chemical Process Industries and new research areas in Chemical Engineering which do exist and every Chemical Engineer has to explore out and imply the new ideas in practical life to find the solution to critical risk problems.
The event concluded by presenting the memento to Hon'ble Scientist S.P.Ghuge.
Respected Faculties Prof M.D.Waghmare, Prof W.S.Deshmukh, Prof Rashmi Nibalkar, Prof G.P.Lakhawat, Prof A.H.Batghare, Abhilesh Kombe, Laboratory Assistant  were prominently present in the programand also worked hard to make this event very successful one.  Sagar Dhanuskar, proposed the vote of thanks. Following student members of ChESS  Pritam Sarkar, vaibhav Gawande, Swapnil Upadhyay,   Sandip Tiwari, Saurav Das, Ketaki Tarodekar,  Nivedita Nandanwar,  Shamal Tarar  has worked hard for this event.   Management of LTJSS has fully supported this event.