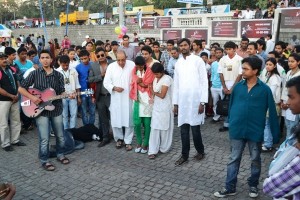 Nagpur News: With the nationwide rage against the gruesome gang rape of a 23 year old Delhi girl, the city circles are also echoing its voice of protest in every possible means they can. Sunday also saw a series of mass demonstrations to register sharp dissent over the tragic incident. The growing resentment among the youngsters as well as the citizens took to the streets as Green Vigil Foundation – an organization known for its "chipko andolan" initiated to save trees – made its appeal loud and clear. The organization threw up multiple street plays and formed human chains at various places across Nagpur to protest the inhuman act in the nation's capital.
In the first of its kind mass awareness campaign, Green Vigil founder members Kaustubh Chatterjee and Kavita Ratan came forward to create street plays with handful of characters and a musician who are mostly the college students. They conducted three shows of street plays at Futala Lake,  and two each at Children's Traffic Park at Dharampeth and Poonam Chambers at Sadar.
Chatterjee informed that the event began at 2 pm on warm Sunday afternoon but its impact spread like wildfire. The organizers gathered at Futala Lake and started beating drums which invited the passersby. They then conducted first show of their street play with 50 viewers. They showed the character of a rape victim played by Shefali Bansod who was forced by the evil character played by Nand Kishore. The girl's father played by Shakti Ratan pleads the evil to spare his daughter but the character refuses to budge. He then runs to a politician played by Gladwin but to no avail. Then in a sudden turn, a handicapped guy played by Aditya Patro, who is also the writer and director of the play, steps forward to fight the negative character. This scene works as the fuel to fire up the people who move ahead in groups and kill the evil. Then the entire mob gathers to form a human chain and the play ends.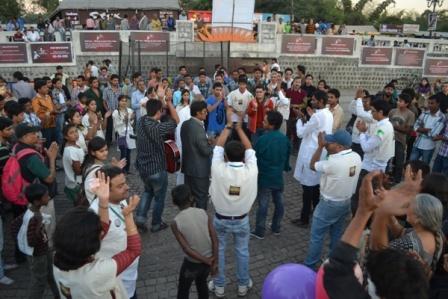 Following the response the team went ahead with the repeat shows twice at Futala Lake, which went packed with 200 strong audience. The crew then proceeded towards Children's Traffic Park and Poonam Chambers where they conducted similar street plays twice with equal magnitude of response.
Chatterjee said that this was the novel concept put forth by Patro, without whose ideation, it would not have been possible to play up the campaign.
He said that other backstage supporters included Bhim Singh, Akshay Sahare and also Snehal Patil who was seen in the role of the victim's friend.
He also appreciated the wonder music composed by Mr Bilal Kazi who provided a fantastic musical support to the play.
Green Vigil members Surbhi Jaiswal, Sandesh Sakhre, Abhilash Dhote, Tanmay Srivastava, Shravani Pandey and Darshan Raj Shahu also did their bit in taking the campaign to huge success.