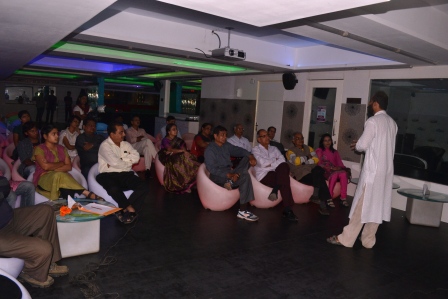 Nagpur Today :
Destiny Counseling Pvt Ltd, Nagpur strongly believe in the vision of Swami Vivekananda i.e." Empower the individual to Empower the Nation". Dynamism & Youth are close friends. The picture of Youth just flashes our minds as we hear the word Dynamic. Swami Vivekananda has discovered this relation to be very charismatic. According to him the Youths are Power House of Nation.
Films can spread message to the crores of people in a single string so as our continued contribution in enhancing excellence in art & culture. This company is co-host for an International Film Festival held in Nagpur.
Films have a great impact on every one mainly on YOUTH Youth get motivated by Films. They think, act , wear like a Hero of the respective film they like. For eg, take 3 Idiots film. Films like TZP,ROBOT – creates us to think of our imagination and speculate some creative thoughts. Film like CHAK – DE- INDIA is good eg of team work.
In this continuation, our Company is working on following areas in the field of entertainment to empower the region.
** To produce a Film on "Swami Vivekanand"
** To produce a Video album with 6 songs minimum
As the audience and the impact is different , we will have to do our best to drive the dreams to reality.
With reference to our discussions we have to start with the Film and video album and e songs of this Video Album are incoported into the film. Total 125 artists are required for this project. 100 Vivekanand have to be casted for this project.
Dynamic Destiny had organized an event at vibrations for their upcoming movie on " Swami Vivekanand" and the Details of the programme conducted in Vibrations are as follow:
• Script of the movie on 'Swami Vivekananda' was discussed.
• About Chicago Conference
• Swami Vivekananda strongly believe in the saying which goes as " We are the creators of our own destiny".
• Nagpur Film Academy's Kiran Khatke tied up with Subhash Ghai's Whistling Woods International. She extended her support for the auditions part.
• Shakti Ratan, who is a veteran theatre artist played the role of Swami Samarth in the mega play.He would be on the panel of judges.
• Sanjay Bhakre has acceded to be a judge and will also facilitate in registering the film-name as a guide.
• Anup Shrivastava and Shubhangi Badbade,both have agreed to write the screenplay for the movie and will enhance the story of Swamiji.
• Sanjay Jivne, a well-known theatre and research scholar won accolades for the mega play named as Samrat Ashok. He asked to do research on the life and works of Swamiji which would give some depth to the script.
• Advocate Raman Senad who pioneered the 2-wheeler rally of 3000 kms from Kanyakumari to Nagpur spreaded the message of Swami Vivekananda all over. He also took the responsibility of completion of the film on time so that it can be released on 12th January 2014.
• Designing-Branding-Promotions of the film was handed over to Satish Thengdi and Rubin Ray.
• Director of Destiny Counselling Pvt. Ltd. Mrs. Vaishali Gokhale discussed the activity chart of how the film will act as a counseling medium and rejuvenate the enthusiasm in young minds.
• Dr. C.V. Chalapati Rao threw light on the life and relevance of Swami Vivekananda in today's world.
• Destiny Counselling's Shri. Pratap Guruji, Nitin Kamble,Shailaja Jaiswal,Anjali Sakharkar,Jui Gadkari were also present.
Awaiting to know the further coming news for this movie….