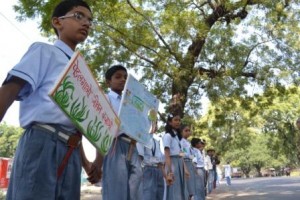 Nagpur News: City- based environmental NGO Green Vigil has organised a Chipko Movement at Nelson square on Sunday afternoon, wherein college and University students are holding a sit- in protest and have made a human chain to protest tree- felling.
Trees are being felled indiscriminately under the excuse of broadening of roads in and around Nagpur City. A large number of trees were felled between Mental Hospital Square (Nelson Square) and Mankapur Chowk recently.This was the trigger for the protest movement.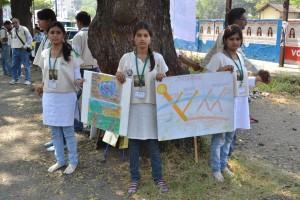 Dr. Kavita Ratan, founder, Green vigil, stressed on the need to maintain a balance between environment and development. "If one tree is felled, five more should be planted as replacement. This is never practiced. Trees are being felled despite an ongoing court case in this regard."
Students of Nikalas Women's University and Somalwar School, Maumia Branch, are participating in the protest. They were coordinated by Seema Somalwar and Rajshree Dutta. During the protest, volunteers of the Green Vigil Foundation will be spreading awareness among onlookers about the advantage and importance tree plantation.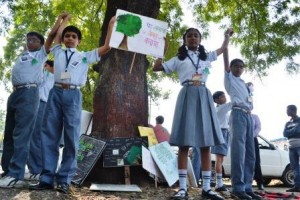 The protest was organised and coordinated by Green Vigil co- founder Kaustubh Chatterjee and Team Leader Vrishali Srirang. Prominent green vigil members like Shakti Ratan, Daksha Borkar,  Sandesh Sarware, Abhilash Ghote, Snehal Patil, Anjali Lohkare, Srushti Kade, Rohini Dable, Anup Karaskar and others are also participating. The protest is still on.