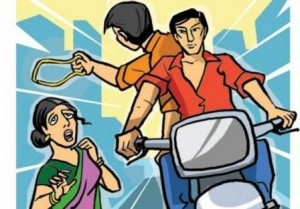 Nagpur News: Chain snatchers are having their day and night, freewheeling into their ill intentions. Rising such incidents have posed serious security concern before the people moving out on deserted streets. Yet another incident of chain snatching has come to light at the area under Ajni police station.
Two youths aged between 20 and 30 years caught hold of a couple approaching towards their house and zoomed past on their black colored pulsar, grabbing the neck piece worth Rs 18,000 from Baby Ramkrishna Dharmik, who was riding pillion on Honda Dio (MH-31 DA 7235) with her husband. The incident took place near Wanjari Nagar water tank on the road from Tukdoji Putla to Vishwakarma Nagar.
Before the couple could react, the accused fled the spot within no time.
The couple later lodged the complaint at Ajni police station. The unidentified youth have been booked under section 391, 34 IPC. Search for the youth is still on.