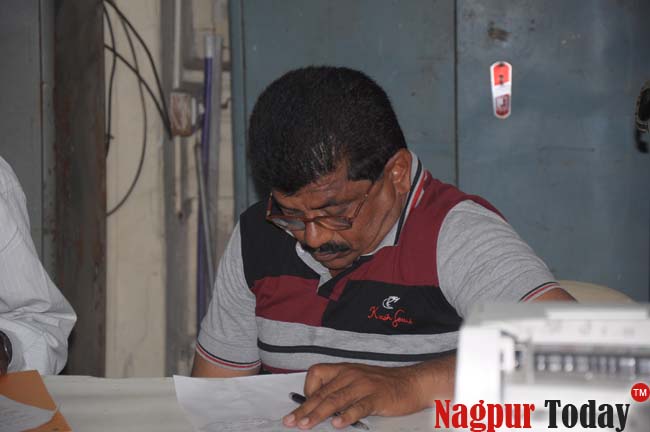 Nagpur News : Greed for more money despite drawing a hefty salary proved costly for an Assistant Police Inspector (API) when he was trapped and arrested by Anti-Corruption Bureau (ACB) for demanding and accepting bribe from a man. The incident occurred on May 4.
According to sources, one Sumarandas Meram (30), who works as Public Relations Officer (PRO) at Aasta Hospital in Sakkardara area of Nagpur and a resident of Plot No. 69, Lal Jhenda Square, Yashodhara Nagar, was nabbed while driving his Bajaj Platina (MH-31/KR 2790) under the influence of liquor by Lakadganj police on April 28. The police seized his motorcycle. It may be recalled, police have launched an intense drive for past several days to curb drunk driving by vehicle owners specially the motorcycle drivers.
Sumarandas was issued a challan receipt with a fine of Rs 1500 and the police told him that after paying the fine in the court his motorcycle will be released and handed over to him. Accordingly, Sumaradas paid the fine in the court on May 3 and then went to Lakadganj Police Station to get back his motorcycle. However, Assistant Police Inspector Anil Bombale, (Buckle No. 2262) who was in charge of drive against drunk driving under Lakadganj Police Station, said it is not so easy to return his motorcycle and demanded a bribe of Rs 500 from Sumarandas. Sumarandas promised to pay Rs 500 to API Bombale the next day.
Menawhile, Sumarandas approached the Anti-Corruption Bureau and lodged a complaint against API Bombale for demanding a bribe. Acting on his complaint, the ACB laid a trap and sent Sumarandas to Lakadganj Police Station and told him to meet API Bombale. Sumarandas did exactly what ACB had told him and handed over Rs 200 instead of Rs 500. API Bombale, unaware of a ACB trap, accepted the money happily. But his happiness was cut short by ACB personnel when they caught API Bombale red-handed while accepting the marked Rs 200 as bribe on May 4.
The entire operation was carried under the guidance of DCP (ACB) Nishit Mishra, IPS. The other ACB personnel who took part in the operation were Dy SP Harishchandra Reddiwar, Sanjay Purandare, PI Pratap Ingle, constables Nilesh Barve, Amit Dahal, Santosh Mishra and Pramila Gaekwad.
Lakadganj police have arrested API Bombale under sections 7, 3 (A), (D), 3 (2) of IPC and Anti-Corruption Act.  Most importantly, the action by ACB against API Bombale has pushed a panic button and the policemen in the city have become restless and panicky.
Now, it has to be seen that the upright IPS Officer DCP Nishit Mishra brings how many more policemen of lower ranks or higher ups into his radar. Till now, he has not spared any policeman then he may be a constable or higher official.