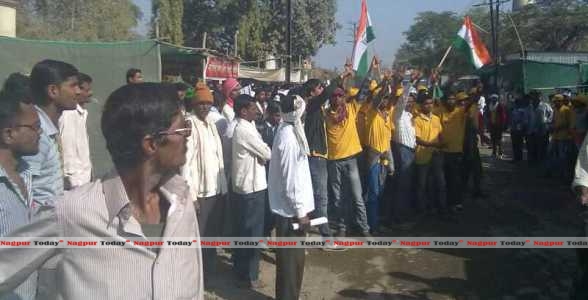 Nagpur News.
Yuva Elgar rally under the leadership of Founder of  Youth For  Vidarbha State and Vidarbha Joint Action committee convenor Dr Aashish Deshmukh was accorded grand welcome on day four, during the course of its journey from Hinganghat to Deoli. People extended all out support to the rally which reached every nook and corner of the area it visited. The rally for the demand of separate Vidarbha State will visit all the 11 districts, towns and villages. The rally commenced on February 5. It is a motor-cycle rally.
The rally received massive support and welcome at every place it went to. People raised slogans like Vidarbha Rajya Lekar Rahenge ( We will have separate Vidarbha) and extended support to the rally. Former mayor of Hinganghat Chandu Mavle, Prof. Deepak Arajpure, Prof Satish Bhoyar, Ravi Dani, Aasif Sheikh, Dilip Wankhede, Prof Chandu Ghuse, Ashok Kharwade, Rupesh Diyewar and other dignitaries welcomed the rally.
The  small film depicting injustice done to Vidarbha and the advantages of separate Vidarbha state was screened. Due to backlog of irrigation, 32,000 farmers committed suicides, lack of agro processing units, financial backlog, lack of agro allied industries, Mihan problem, power shortage and many other such topics are the key points of the film.
It is strongly felt that along with Telangana the Vidarbha state issue should also be brought before Parliament.
It may be recalled that BJP MLA, Devendra Phadanvis had flagged off Elgar rally.