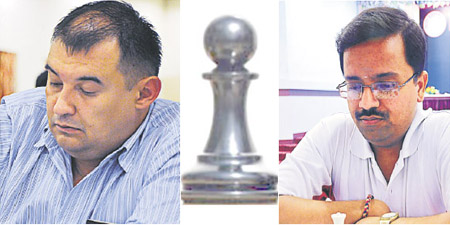 Nagpur Sports : The first day of the Grand Masters chess championship brought surprising results for the top seeds in the second phase on the tournament here on Tuesday.
Third seed Russian Andrei Devietkin had share points with a junior, whereas fourth seed Vovak Andrei of Ukraine was defeated by Krishna CRG of India.
Russian grand master Alexander Fomin also shared points with Karnataka's 11-year-old K S Raghunandan in a draw. It is worth mentioning here that Raghunandan was the first runner-up in the under-11 National Chess Championship conducted recently.
The tournament has been organised by Vidarbha Chess Association and has been sponsored by Nagpur Improvement Trust (NIT).
Third seed Devietkin was forced into a draw by Bangladeshi 47th ranking fide master Mohammad Taibur Rehman.
On the top board, Belorussian Alexandrov Alexes, who won the Mumbai Mayor Cup last year, defeated Kapil Lohana of Maharashtra. Ukraine's Kravtsov Martyn was declared winner against J J Yohan of Kerala.
This was the first walk-over of the round. Martyn had become champion during Chennai Open in year 2011.
The first day of the tournament proved lucky for Vidarbha.
International master Anup Deshmukh and Gurpreet Singh Maras representing the region remained victorious on the first day. Anup defeated Om Vinay Vitalkar of Maharashtra, whereas Maras defeated Girish Dhande of Maharashtra.
Total 166 players from 10 countries including Indian, USA, Russian and Ukraine have participated in the tournament. The players include 17 grand masters and 28 international masters.