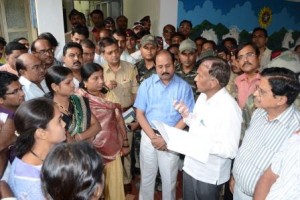 Nagpur News: A deputation of BJP (Bharatiya Janata Party) workers and officials in the city met Commissioner of Police Ankush Dhanvijay on Monday, demanding security for Dr. Safalta Ambatkar, Dr. Yashwant Ambatkar and their family, among other things.
"It is a point to be noted that BJP corporator Dr. Safalta Ambatkar and her family, despite having been threatened by goons with criminal records on more than one occassion, have been provided no security, while Satish Chaturvedi, who has held no governmental post since 2009, enjoys Z- plus security on governmental money", members of the deputation said.
The members initially were to meet Ankush Dhanvijay privately, but later decided to hold the discussion in front of the press.
The deputation also said that the BJP  has no knowledge about the person resonsible for the defiling of images of Satish Chaturvedi in the city. They said that BJP is not responsible for it.