Gorewada Lake water level at Lowest ever drop of 312.50 mtr


Water Supply in West, South-West, South and Central Nagpur to remain affected for next 10-days

Nagpur.
The water level of Gorewada Lake has once again dropped to its lowest possible level of 312.50mtr which is a record lowest ever drop this year. Thanks to frequent breaches that occurred in Right Bank Canal (RBC) of Navegaon Khari dam this month (2 times this month).
It is well known fact that Gorewada Reservoir provides 65% of the raw water for treatment to Nagpur city. Due to the dilapidated condition of Irrigation Departments Right Bank canal (RBC) of Navegaon Khairi and frequent canal breach the water level at the lake fell down to record minimum of 312.40 on Nov 16, 2014. Presently the lake level is at alarming level of 312.50 meter (as on Nov 18, 2014). Due to this drastic drop in the level, water supply to Gorewada WTP's and subsequently to West, South-West, South and Central Nagpur may get affected in coming next 10 days.

It may be mentioned here recently on Oct 31, a major breach in Right Bank Canal (RBC) of Navegaon Khari dam at 19Km from Navegaon-Khairy dam. The location of that breach was at Nimba village. Then on November 13, another major breach occurred in RBC of Navegaon Khari dam near Babhulkheda village on November 13. After repair of RBC breach the irrigation Dept has been providing sufficient raw water at the Mahadula to operate the maximum capacity. Even though the pumping is being done at full capacity from Mahadula the increase of water level at the Gorewada lake is very less i.e. hardly 4cm -5cm per day. Around 450MLD of raw water is pumped from Mahaduala and 390MLD is being drawn in the four WTP's. Thus the Gorewada Lake is getting topped up by 60MLD water which is equivalent to 4cm-5cm. Gorewada Lake is expected at 312.60mtr, tomorrow on Nov 19, 2014 (Wednesday).
It must be mentioned here to ensure normal pumping to the city from Gorewada WTP's intake of 430-440MLD is required. This is only possible if there is minimum required head of water at the Gorewada lake which is 313.0mtr. The demand for the Nagpur city is such that from Gorewada lake minimum 430MLD is required to be drawn by gravitational force for treatment but due to less water at Gorewada lake and insufficient water head NMC-OCW are hardly able to get 390MLD for treatment. This is resulting in 40-42 ML (around 9%-10%) less pumping daily from the Gorewada WTP's.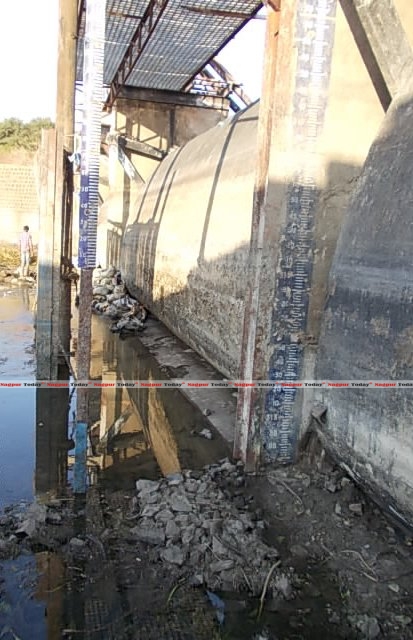 It must be mentioned here, these areas are already going through a disturbed water supply (limited and low pressure) since November 13, due to a major breach that occurred in RBC of Navegaon Khari dam near Babhulkheda village.
Mahadula Pumping Station receives water supply from Navegaon-Khari RBC As a fall out of the breach in RBC on November 14, the lake water level was dropped
to 313.14meter. On November 15 (312.88 mtr), November 16 (312.40mtr), November 17 (312.50 mtr).The Gorewada Lake level has further dropped to 312.50 mtr. (As on Nov 18, 2014). Despite that OCW and NMC experts are trying its level best to minimize the inconvenience to the citizens by properly managing the water supply system, but just because for such critical situation of Gorewada the water supply to Gorewada WTP's Pench-I, II, III and subsequently to the West, South-West and South and Central Nagpur will be adversely affected in next 10 days.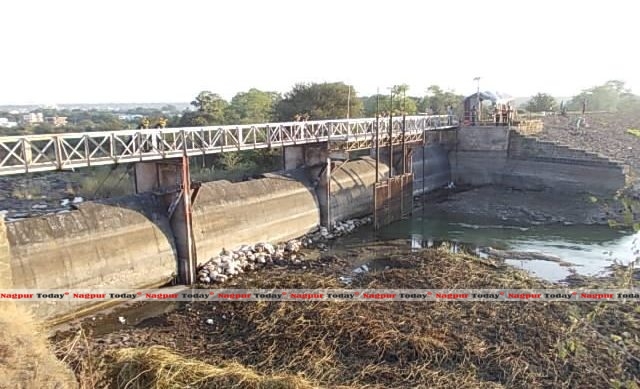 At present operating condition of the plant it will take at least 10days to raise the level of the lake and for ten days the water supply of the West, South-West and South and Central Nagpur being deprived of 40MLD water will face water crisis.
Despite Gorewada water level problem has been developed due to frequent RBC breaches of Navegaon Khairi dam still the inconvenience caused to citizens of West, South-West, Central and South Nagpur is deeply regretted.
For any other information or complaints regarding water supply please contact OCW Toll Free Number: 1800–266-9899