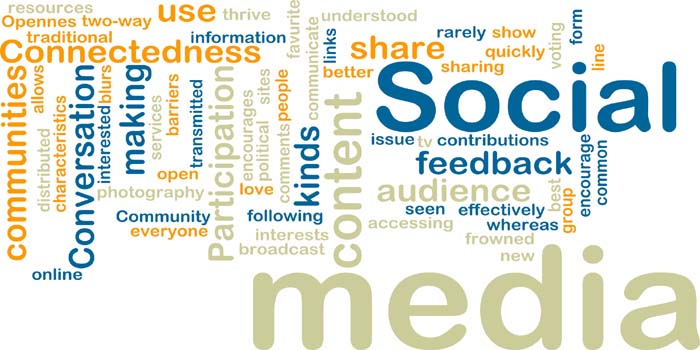 Nagpur News : In recent years the use of social media by the education sector has increased significantly with more colleges and universities incorporating social networking solutions into their marketing campaigns.
Whereas the terms 'social media' and 'social networking' are often used interchangeably, they are actually separate entities with the former encompassing a wider range of online platforms and thus offering users a variety of tools with which to create, present and share content. Included amongst these platforms are blogs and microblogging sites, instant messaging, forums or message boards, photo-and-video sharing sites in addition to those ubiquitous social networks which aggregate all of these functions within one interface.
As you may have noticed, social media has experienced a global explosion in popularity and has revolutionised the way we communicate with each other across borders and oceans, but it's important to remember that, reflective of cultural differences, attitudes and preferences regarding social media vary as much from country to country as our cuisine or our language.
The purpose of this white paper is to serve as a guideline and point of reference for colleges and universities that wish to start or develop a global social media strategy targeting  India. We present an overview of the numbers regarding Internet usage in these territories and highlight points of best practise for global social media strategy.
Internet Users Online & Penetration
India ranks among the top countries in the world for Internet usershipwith121,000,000 users as of Dec.31, 2011. However its penetration rate is relatively low at 10.2%, a drop in the ocean compared with the rate of 84% enjoyed by the UK. This is due to India's massive population and a significant economic gap between the classes, meaning that shared-access usage – from libraries, Internet cafes and similar public facilities –accounts for as much traffic as work or home access.
Web users in India have the lowest average usage when compared to the other BRIC countries and those with web populations of a similar size. However, usage rates in India are projectedto grow substantially as Internet penetration at home and work increases and broadband networks become more widely available due to the emerging economy.
The table below presents the demographic profile of Internet users in India; the most active age groups are 15-24, 25-34 and 35-44, the heaviest users overall being 15-24 year olds in both gender groups.
The 15-24 age groups likely to include high-school leavers and young teachers, whereas the age groups 25-34 and 25-44 are likely to include teachers and parents.
Students spend more time online in India than any other group. Finding information about career opportunities and academic study plays an enormous cultural role in a country whose population is dominated by young people- 40% of Indian citizens are under the age of 25.
Education websites will reach 41% of Internet users in India, a statistic which should be considered when sizing up the market for your college or universityas opposed to the total number of online users. This percentage looks all the more healthy when you see that itoutweighs that of sports and TV, indicating a young, upwardly mobile audience looking to gain an education overseas.
Social Media in India 
Social networking is the most popular online activity amongst Indian internet users.
According to statistics portal Social Bakers, the graph below indicates the types of social media sites most visited by Indians.
Facebook is the most visited social network – surprise surprise – with almost 90% of Internet users in its iron grasp. It can also boast the highest engagement with an average of 4 hours spent on the site per visitor per month.The majority of Facebook users are located in Delhi and Mumbai.
Visitors spent 2.5 hours per month on various Google sites, withvideo sharing onYouTube accounting for a significant amount of that figure (ComScore, August 2012).
LinkedIn officials report 17 million users in India, but there are 89 million white collar professionals in the country so as the world's leading social network for business it is aiming to attract this demographicand get them spending significant time on the site. However, India is still LinkedIn's largest market outside the U.S in terms of membership numbers. Back in 2009, LinkedIn started its India operations with a member base of 3.4 million and a firm focus on educating those members on how to leverage the platform to further their career, maximising productivity and success.
The domestic social network Orkut still has around 4 million users in India and Internet users there are also very active on microblogging sites such as Twitter, as well as publishing full-length blogs.
Social Networks
Social networking is currently the most popular online activity in India, and itis the 7th largest market for it behind the US, China, Germany, Russia, Brazil and the UK.
Around 105 million Indian citizens will use social networking sites in 2013, according to eMarketer – that's an 8% from 2012. This means that by 2014, approximately 83% of internet users in India will be active across various social networks. Compare this figure with social network users in the US, where the projected share is just 68%, and it is easy to see the potential of this emerging market.
Research from ComScore (August 2012) about online activity in India found that social networking accounts for 25.2% of man hours spent online in June 2011. Social media continues to drive users' daily online activity, while entertainment sites rank a distant second, accounting for just 10% of minutes spent online.
Of the 70 million people in India who are registered with a social network, a core group of approximately 30 million can be described as 'heavy users'. These users return to the site to check their profiles and notifications up 3 times a day. Increasingly, people are beginning to access their social networks via smartphone apps on iOS, Android and Windows Phone 8.
Most social networking activity in India takes place between 6pm and 10pm; it is seen by many as a wayto relax and disconnect from their often-stressful 'real-life' networks.To young students in India, social media platforms like Facebook offer an additional, less demanding means of extending yoursphere of influence and furthering your social or professional prospects.
Much like any other country you care to mention, social media usage in India is dominated by interactive gaming, apps, video viewing and photo sharing. Entertainment is one of the key drivers and most popular forms of content. Videos are especially popular for accessingBollywood films, TV and news.
BharatStudent
With an Alexa Ranking of 57, BharatStudent is the 5th most popular social media and networking site in India.
It belongs to Axill Europe Ltd, a large online publishing company who specialise in advertising space, and its slogan 'The Young Soul of India,' resonates with India's youthful online population. Cafe Bharat provides the very latest news feeds, events, national gossip, movie reviews, and opinion polls from India's vast entertainment industry. The site is supported by exciting wallpapers, screensavers, and videos. Furthermore, Cafe Bharat is available in Hindi, Tamil, Telegu, Bengali, Kannada, Malayalam and English, maximising its appeal across the Indian subcontinent. The feature 'Campus TV' is a portal for exclusive educational and user-generated video content that engages with the widespread interest in overseas education, India's top colleges and universities, and the latest internships for students.
They also offer the'StudyZone' service, an integrated solution where students can get assistance and information on choosing colleges or universities. We strongly recommend this service to our higher education clients, as well as its international English teaching certificatesin case some young students are willing to become English teachers.
Blogging
According to data released by We Are Social,only 15% of Indian users are involved in blogging. Statistics on MSN and Windows Live report that India's blogosphere is driven by young Indians who actively read blogs for self-improvement and entertainment with 42% of online users reading blogs to stay informed about world events. 49% cite entertainment as their main reason for keeping abreast of blogs,whilethose written by business leaders rank as the most interesting.
Another fact to consider is that 92% bloggers in India use English as their language of choice for publishing content.
Blogs on higher education
This blog is about general education in India. It is mainly targeted to students, offering a large section for University education which contains a post about 'How to write a great statement of purpose (SOP) for foreign universities' – a perfect opportunity to post advice and links to your institution.
http://education.trak.in/category/university-education/
Blogs for parents
This isan aggregator with the sole aim of gathering all blogs from Indian mums into one place. 'Mummy blogs' have become popular and influential amongst consumers in many countries across the world, with India being no exception.
http://www.indianmommies.blogspot.co.uk/
Microblogging
India is in the top 10 countries for active Twitter use, demonstrating the value of the Indian market as an early adopter of global social media trends. Overall, Twitter is the 15th most popular website in India, attracting 1.27% of users, and given the growth of Internet access through mobiles in India it has the potential to provide unparalleled engagement with users from the target audience.
Twitter also offers its services in Hindi especially for the Indian audience.
The age groups which represent the highest percentage of Twitter users are 15-24, 25-35 and 36-44. The first age group is likely to include students while the last two age groups are more likely to include teachers and parents, however mature students may also fall into this category.
One thing to consider in the Indian market is that most Internet users are male and this is also reflected in Twitter's user base, as seen in the table below.
Video sharing
Google's video-based sites rank as the top property in India, making its flagship site Youtube the market leader.
About 44.5% of all online videos viewed in India during January 2011 have been watched on Youtube, which makes Google the top online viewing destination in India by a long shot; 23.5 million viewers have visited the site, watching 785 million videos across YouTube and Google video. Facebook is the 2nd most popular site for viewing and sharing videos in India with a total of 6.6 million viewers and 30.1 million videos watched.
Artcile source : www.obanmultilingual.com