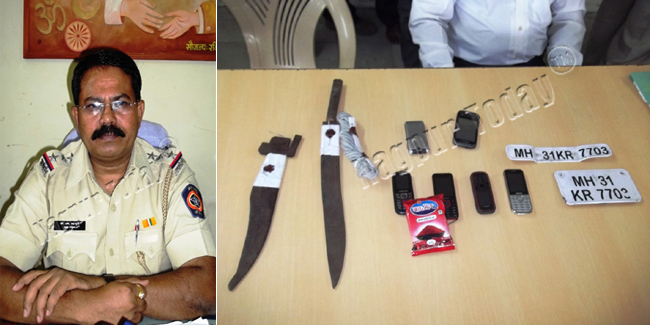 Nagpur News: Gittikhadan Police, on Sunday, arrested two robbers even before the robbery could take place. Gittikhadan police got information about five robbers planning a theft in front of Shri Jagdamba Om Mandir, Mankapur Ring Road.
Acting fast on the information, Gittikhadan police reached the spot and laid a trap for the robbers. When the robbers came for the theft, the police were ready to nab the robbers. The cops attacked the goons surprising them. The robbers were caught off guard on the situation. Although three robbers managed to escape, two robbers were arrested by the police. The accused are identified as Sheikh Wasim Sheikh Akram (24), a resident of Gandhibagh, Fawwara Chowk; Shariq Khan Sheru Khan Bagad (23), also a resident of Gandhibagh; Javed, a resident of Saibaba Nagar; Kalu, a resident of Maskasath; and Imraan, a resident of Hansapuri.
Police seizes a desi katta, few sharp weapons, mobile phones and a chili powder collectively worth Rs 40,000 from their custody. The arrested goons are Sheikh Wasim Sheikh Akram and Shariq Khan Sheru Khan Bagad. Gittikhadan Police registered an offence under Sections 399, and sub Sections 3+25, and Arm Act 4+25 of the IPC. PI Bahadure is investigating the case.