German delegation wants to set up Nagpur's 'hi-tech' traffic system in Karlsruhe City

Delegation visits 'City Operation Centre' at NMC Headquarters
Nagpur: The German delegation which is participating in NMC's 3-day workshop on Thursday paid a visit to 'City Operation Centre' and praised the initiative for monitoring traffic management in city and keeping a watch on criminal activities. "We will try to set up such 'hi-tech' traffic system Karlsruhe City and entire Germany as such. For this, help of Nagpur authorities will be sought," said Karlsruhe Economic Development Department's Innovation Head Ralf Eichhorn.
Ralf Eichhorn was speaking at the workshop on the topic "Mobilise Your City" is being organised by Nagpur Smart and Sustainable City Development Corporation Limited (NSSCDCL) at NMC. The German delegation was in city in accordance with an agreement signed by NMC under 'City to City Pairing' programme with Karlsruhe City.
Dr Ramnath Sonwane, CEO of Smart City, on the occasion gave information on the entire working of 'City Operation Centre.' The Centre keeps watch on the entire Nagpur city through CCTV cameras installed at all squares. The 'City Operation Centre' is helping in taking action against traffic rules violators as well as curbing the criminal activities in the city. Dr Sonavane answered the questions put up by German delegation. Nagpur will certainly help setting up such hi-tech system in Karlsruhe City of Germany, he said.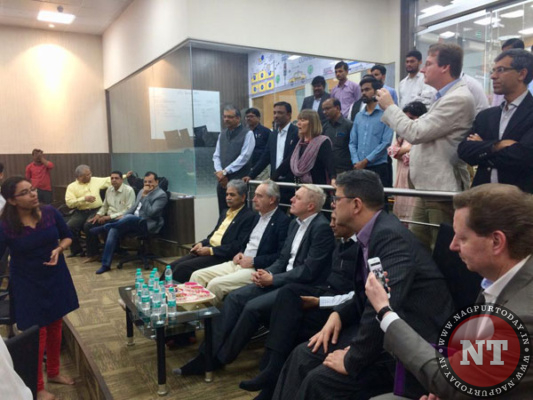 "THE environment friendly transport system in Karlsruhe City in Germany is good for health. Such type of transport system will be beneficialforIndiatoo,"said Abhijit Bangar, Municipal Commissioner of Nagpur Municipal Corporation (NMC) while addressing a workshop of Karlsruhe delegates and local body officers at NMC Administrative building on Wednesday. NMC hadsigned an agreement under City to City Pairing programme with Karlsruhe City. The delegation will be a part of Mobilise YourCity programme organised by Nagpur Smart and Sustainable City Development Corporation Limited (NSSCDCL). Dr Ramnath Sonwane, CEO of Smart City, Rajesh Dupare, Chief General Manager of Smart City, Karlsruhe Economic Development DepartmentInnovationHead Ralf Eichhorn,
Other dignitaries present on the occasion include German delegates Steffen Buhl, Prof Dr Anke KarmannWoessner, Ing Jan Riel, Oliver Will, Iris Becker, Ashish Pandit, Ashish Verma and Devendra Mahajan, and Vijay Banginwar, S K Singla, Executive Director of Maha Metro, Mahesh Gupta, Additional General Manager, Rajtilak Roshan, Deputy Commissioner of Police, Shivaji Jagtap, Transport Manager, and others.
Atthe outset, L&T's Chokalingam gave presentation on digital services in Nagpur. Later, a discussion was held on various projects being implemented in the city.
The workshop will conclude on November 30 at 10 am.