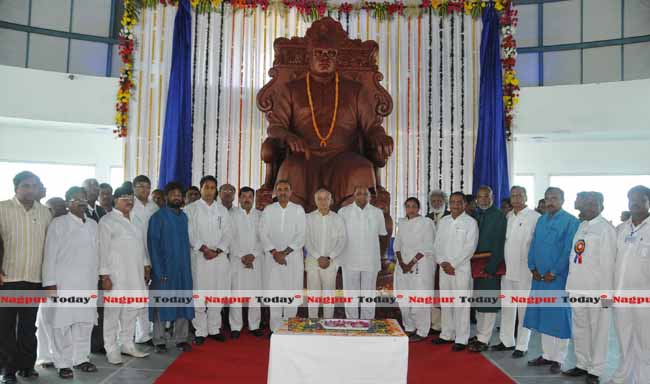 Nagpur News: The Union Home Minister Susheel kumar Shinde on Sunday appealed imbibing of messages of Gautam Buddha and Dr Babasaheb Ambedkar in the society. "The society with peace, religious harmony, brotherhood the messages Gautam Buddha and Dr Ambedkar preached can face the challenges of discrimination and poisonous minds being spread by some forces," Shinde said.
The Home Minister was speaking after inaugurating a full sized scripture of Dr Babasaheb Ambedkar sitting like a "Rajarshree" (Kingly) posture in the premises of Dadasaheb Kumbhare Memorial and Dr Babasaheb Ambedkar Cultural and Research Centre in Kamptee. Union Agriculture Minister Sharad Pawar presided over the function. Those present on the occasion include Union Heavy Industries Minister Praful Patel, MP Mukul Wasnik, Guardian Minister Shivajirao Moghe, EGS Minister Nitin Raut, Food and Civil Supplies Minister Anil Deshmukh, Minister of State for Finance Rajendra Mulak, MLA Ramesh Bang, Member of Planning Commission Dr Narendra Jadhav, former MP Jogendra Kawade, Adv Sulekha Kumbhare and others.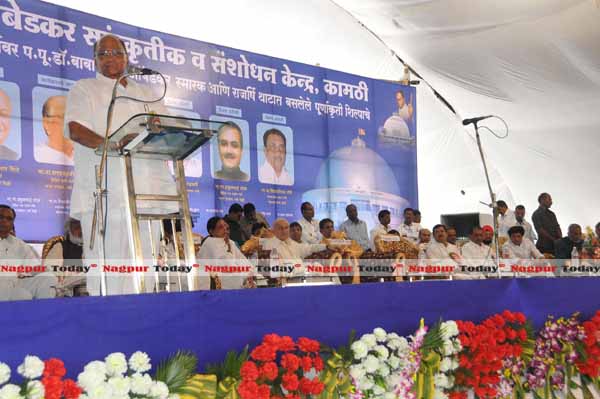 The Union Agriculture Minister Sharad Pawar, in his presidential speech said, "Dr Babasaheb Ambedkar strived hard and greatly contributed for uplift of society particularly the weaker sections and downtrodden. Now, we should make untiring efforts to spread his thinking, preaching and outstanding works. Dr Babasaheb Ambedkar Cultural and Research Centre in Kamptee has been erected for the same purpose. The Centre is first of kind in Central India. I wholeheartedly appreciate the efforts put in by former MLA Adv Sulekha Kumbhare in constructing the Centre," Pawar said.
The other prominent personalities who expressed their thoughts include Praful Patel, Shivajirao Moghe, Mukul Wasnik and others.
Adv Sulekha Kumbhare made the introductory speech and also proposed a vote of thanks. The programme was compered by Sunit Shirsat. A large number Bhikkhus, Bouddha followers and citizens were present on the occasion.