Dignitaries galore at the celebrations
Nagpur Today News : Rains had a field day and spoiled the entire scenario at the site where many dignitaries came to attend to the 57th Dhamma Chakra Pravartan Divas celebrations. The stage for the dignitaries was elaborately decorated with adequate protection from rain, however it was the audience with Budhist Bhikshus, devotees and the masses that had to bear the brunt of untimely rains, which too played games on them with a small every now and then. The ground became slushy and wet for the masses to sit down or even stand comfortably. The chairs kept for invitees were wet. Every time it drizzled, the people ran helter skelter to get protection from rains.
The programme started with the secretary of the Smarak Samitee Sadanand Fulzele welcoming all the guests and dignitaries with garlands. This was followed by the Mayor of Nagpur City Professor Anil Sole addressing the audience. This was followed by Former Governor of Kerala, president of Babasaheb Ambedkar Smarak Samiti and president of the programme R S Gawai addressing the audience.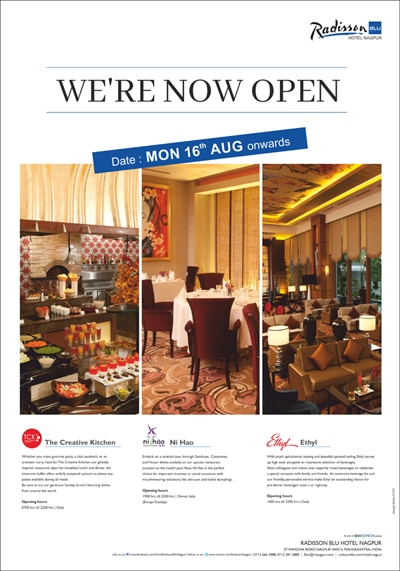 This was followed by various other minister like Maharashtra Chief Minister Prithiviraj Chavan, Central Agri Minister Sharad Pawar, Cabinet Minister (Home) Sushil Kumar Shinde, Central Heavy Industry and Public Enterprises Praful Patel, Minister for Social Justice and former Guardian minister Shivajirao Moghe, Minister for Food, Civil Supply and Consumer Protection Anil Deshmukh, Minister for Employment Guarantee Scheme and Water Conservation Nitin Raut, MP Vilasrao Muttemwar,  Former MP Datta Meghe, Member of Smarak Samitee Badant Arya Nagarjun Surei Sasai and others.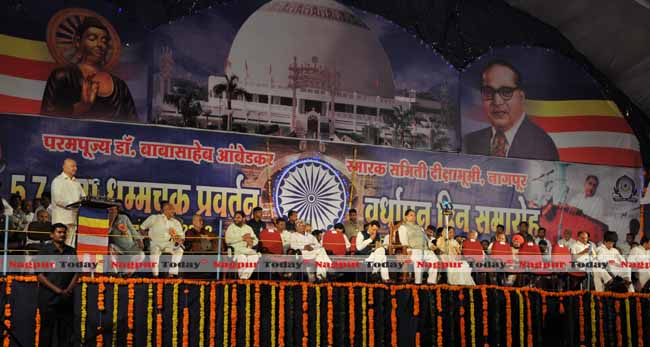 Union Home Minister Sushil Kumar Shinde today said communal forces should ask themselves why Babasaheb Ambedkar chose to convert to Buddhism, and asserted that such elements would not be allowed to prevail.
Shinde said this in his speech after inaugurating the 'Statue of Freedom of Press' at the Lokmat Media's printing plant at Butibori near here.
"It was on this day that Dr Babasaheb Ambedkar parted ways with the communally bias society and converted his followers. The society today needs to contemplate over the reasons behind Dr Ambedkar's decision to start conversion.
"In the recent past communal forces have once again started to resurface. But, we came in to power as a secular front and in no circumstances would we allow such forces to prevail," he said.
Ambedkar converted to Buddhism along with lakhs of his followers in Nagpur in 1956.
It is high time the communal forces introspected on this, Shinde said.
Shinde also said that a country such as America has been shut down due to the economic downturn, but not a single employee has been discontinued in India.
"It is unfair to judge the government on basis of a 4.5 per cent growth rate as the parameters of development are far more diverse then just this," he said.