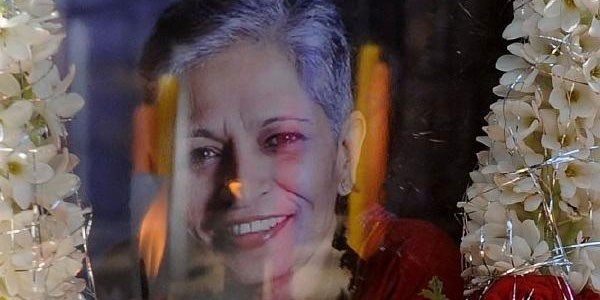 Bengaluru: Two more people have been arrested by the Karnataka Police's Special Investigating Team (SIT) in the journalist Gauri Lankesh murder case. The two suspects, identified as Amit and Ganesh, were arrested from Hubli under the Arms Act, bringing the total number of those arrested in the case to 10.
Their arrest comes days after the arrest of another suspect, Mohan Nayak. Police sources told Times Now they are close to cracking the murder case.The two missing links, police sources say, are the person who pulled the trigger and the murder weapon, which has yet to be recovered. The state police also believe that a clearer link has been established between the killing of Gauri Lankesh and the rationalist MM Kalburgi, who was assassinated in 2015 in Dharwad, Karnataka.
Journalist and activist Gauri Lankesh was killed outside her house in Bengaluru in September last year.Nayak was arrested on July 18. "A person identified as Mohan Nayak, 50, was arrested from Dakshin Kannada district of Karnataka," MN Ancheth, the investigating officer of the SIT probing the Gauri Lankesh murder case, was quoted as telling news agency PTI in Bengaluru.
He was produced in the Third Additional Chief Metropolitan Magistrate Court and sent to six days police custody. Before his arrest, Parashuram Waghmare, a 26-year-old, was held from Sindhagi in the state's Vijaypura district in June. Waghmare is believed to have links with right-wing groups, according to the report.
The others men arrested in the case are KT Naveen Kumar, Amol Kale, Sujeeth Kumar, Manohar Edve and Amit Degvekar. Kale and Degvekar are said to be from Maharashtra.