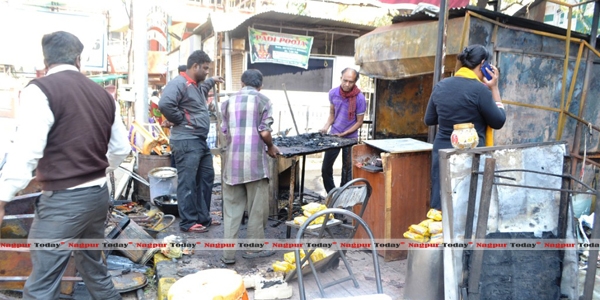 Nagpur News.
A gas cylinder accidentally went off at a food joint in Sadar here on Thursday morning, inflicting minor injury to its owner Ramkrushna Subramanium Mudliar. The articles including refrigerator, fan and electric wires were all gutted in the fire which was later controlled by the fire tender. It was informed that the owner had also kept three domestic cylinders in his eatery. Electric short circuit was said to be the reason behind the accident. Goods worth Rs 40,000 have been reportedly charred in the accident.
Fire officer Nakode informed that Subramanium runs a small eatery named Garam Moong Pakoda near SFS school on Residency Road in Sadar. On Thursday morning when Subramanium upped the shutter of his shop, he noticed the flames. Meanwhile, one of the cylinders exploded due to the leakage widening the flames which engulfed all the material kept inside the eatery.
He said other domestic cylinders in the shop also started leaking however the fire fighters managed to tame the fire while successfully evacuating the shop. The incident sent the people talking about aversion of major accident as there was the school close to the eatery.