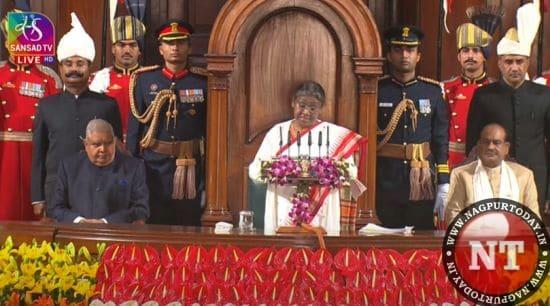 President Droupadi Murmu today said the 'Garibi hatao' is not just a slogan anymore under the NDA government and the government is working to have a permanent solution to the problems of the poor and empowering them.
"With complete transparency, more than Rs 27 lakh crores have been provided to crores of people. A World Bank report states that with such schemes and systems India was able to save crores of people from dropping below the poverty line during Covid," she said.
Addressing the joint sitting of Parliament ahead of the Budget Session, the President highlighted government's achievements.
Murmur said that the 'Aspirational districts' program is now being repeated at the block level, for which, 500 blocks have been identified in the country. The 'Vibrant villages' program to develop villages in border areas has also been introduced. she said.
Listing out the Modi government's achievements and policy priorities, Murmu said, " From abrogating Article 370 in J&K to abolishing Triple Talaq, my government has taken major decisions. From surgical strike to strict action against terrorism, giving befitting response on LoC and LAC, to abrogating Article 370 in J&K and abolishing Triple Talaq, this government's identity has been that of a decisive one."