District-Level Cycle Polo Tournament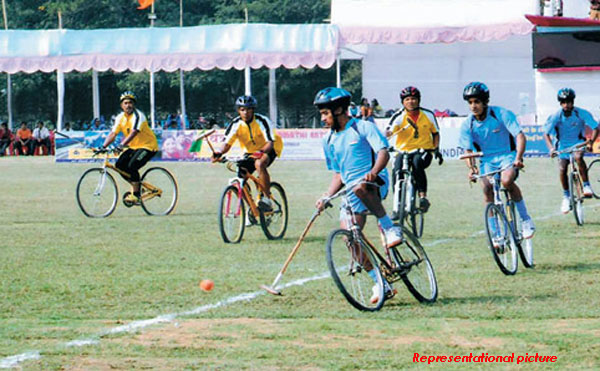 Nagpur News: The Gandhi Yuvak Kendra, with the help of brilliant show of skills by its player Sanjay Sahare, trounced Bhagat Singh Yuvak Kendra 10-3 score thus winning the coveted cycle polo championship in a magnificent way. The District-Level Cycle Polo Tournament was organized by the Nagpur Amateur Cycle Polo Association in memory of Rashtrasant Tukdoji Maharaj at Urdu High School Ground, Ajni, Nagpur. The third spot was bagged by the Green City Club by defeating Nehru Yuvak Kendra in the hard fought contest.
The Gandhi Yuvak Kendra's players dominated the contest with the virtue of outstanding display of talent. They did not give Bhagat Singh Yuvak Kendra a chance to recover from the Gandhi Yuvak Kendra onslaught during the entire time of the match. Sanjay Sahare started the blitz from the beginning of the match by hitting the goalpost of Bhagat Singh Yuvak Kendra 8 times out of 10. Piyush Belkhode and Himanshu Shinde scored a goal sealing the match in their favour 10-3. On the other hand, Pranay Pillewar scored 2 goals and Manthan Gaekwad struck 1 goal for their club the Bhagat Singh Yuvak Kendra.
The Green City Club bagged the third spot by defeating the Nehru Yuvak Kendra with a narrow margin of 5-4 in an exciting game. The prize distribution was was made at the hands of Dr Vinod Jaiswal.