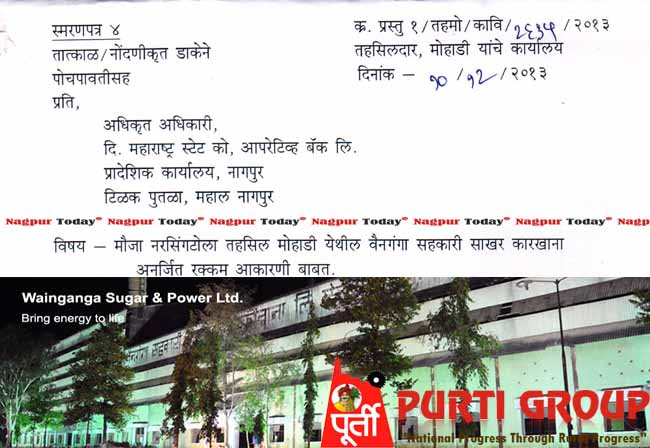 Nagpur News.
In the light of recent allegation by social activist Medha Patkar about the sale of sick sugar mills in Maharashtra to politicians at throwaway prices, a major sell out at dirt cheap prices cropped up in Bhandara district. The sick sugar mill Wainganga Sahkari Sakhar Karkhana along with government leased 66.53 hectares of land which was mortgaged to Maharashtra State Co-operative Bank (MSCB) was sold for a consideration of just Rs 14.10 crores whereas the current value of the land stands at somewhere around Rs 300 crores. The said sugar mill and the land is located at mouza Narsinghtola in Mohadi tehsil of Bhandara district.  And the sale was done in favour of none other than Wainganga Sugar and Power Limited, a part of Purti Group owned by former BJP leader Nitin Gadkari. It is learnt that the said land along with movable and immovable properties is now mortgaged with Bank of India's corporate branch in Nagpur for Rs 39.50 crores.
Talking to Nagpur Today on phone, Medha Patkar said that it is a matter of detailed inquiry to find out how the privatization of cooperative sector has happened. "Suprisingly, Gadkari's Purti Group bought two separate sugar mills and land at similar price of Rs 14.10 crore. Similar pattern of fraud was followed in this deal as was done in case of Chhagan Bhujbal's buying a sick unit in Malegaon, Ajit Pawar in Aurangabad and Amit Deshmukh who bought Priyadarshini mill," she added.
Patkar said that it should be investigated properly how such loss making mills were permitted and whopping loans accumulated on it later on. "Why bank provided such heavy loan amount to these units. It seems it was a ploy to first seize the sick unit and then committing fraud in selling those out at dirt cheap rates. Even no proper bidding was done in the process. The dues of Rs 800 crores of the workers from 40 such factories are still not paid. Even the permission of farmers was not taken before moving ahead with the deal. This is clear violation of Cooperative Act," she said.
        Read Also: Gadkari's co took loan of Rs 39.50 cr on sugar mill land bought at Rs 14.10 cr
However much murkier was the picture even before the said sugar mill and the land in Bhandara came into the hands of Purti Group. Bhandara district administration which originally owned this 66.53 hectares of land had leased it out to the erstwhile Wainganga Sahkari Sakhar Karkhana on December 22, 1986, which further mortgaged it to Maharashtra State Co-operative Bank for want of loan. When the loan payment was defaulted the bank put up the land for sale. Later, the land was cannily sold under the much low profile deal with Vidarbha Realties Private Limited, the rechristened Wainganga Sugar and Power Limited which became a part of Purti group. The deal was sealed on March 8, 2010, when the value of land was not less than Rs 100 crore but it was sold at Rs 14.10 crores only. This was the deliberate ploy to ultimately bring the land to the ownership of Gadkari, a source added.
Liability of Rs 3 crore only!!
Bhandara district collector had earlier fixed the liability of Rs 3 crore as unearned income on Wainganga Sugar and Power Limited for overlooking revenue norms but later shifted the same to MSCB on the appeal by Wainganga to the Divisional Commissioner. However what went unnoticed, or deliberately kept under the wraps, was the petty price of Rs 14.10 crore given for such a whopping piece of land comprising sugar mill and additional 66.53 hectares of open land leased by the government.
Rajesh Pugalia, Nagpur district Secretary of Aam Aadmi Party said, "An independent inquiry should be conducted under Supreme Court. We do not believe in CBI inquiry as it is running at the hands of Congress which is backing Gadkari in Nagpur. It is not just the question of defaulting on liability of Rs 3 crore but it's a scam which runs in hundreds of crore. A detailed inquiry should be conducted to find out what amount of loan was pending on Wainganga Sahkari Sakhar Karkhana at the time of its auction. The timing of the deal should also be taken into consideration as there is some political interest linked to it, Pugalia claimed.
Patkar too demanded judicial probe into more such deals of sick sugar units. "The chief minister said that inquiry is on but it is being conducted by ministry. How can you expect ministry to conduct an impartial probe. We want judicial probe into the matter," Patkar told Nagpur Today.