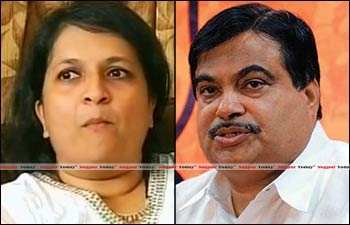 Nagpur News.
Reacting strongly to the second round of allegation leveled against him by Aam Aadmi Party, BJP leader Nitin Gadkari made it a point this time to drag AAP leaders to the court. Call it the after effects of AAP's Nagpur Lok Sabha candidate Anjali Damania's yesterday's complaint against him, Gadkari moved to the court with defamation suit against AAP leaders Arvind Kejriwal and Ashutosh Mishra.
Confirming this development Gadkari informed that he has registered a criminal case against he AAP leaders. He said that repeatedly maligning an image of a honest man like him is not politics.
Kejriwal had called Gadkari a "corrupt" and included his name in the list of "Most Corrupt" and said his party would field candidates against him. AAP has decided to pitch its leader Anjali Damania against the ex-BJP president from Nagpur seat for upcoming general elections.
The activist had accused Gadkari of being "hand in glove" with Sharad Pawar to "suppress" the alleged irregularities related to irrigation projects in the state.
However it remains to be seen whether this move of Gadkari would help him tide the crisis over his political magnitude.