Gadkari visits Vasantrao Naik slum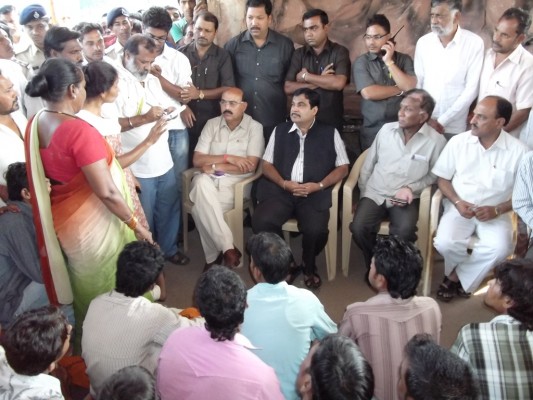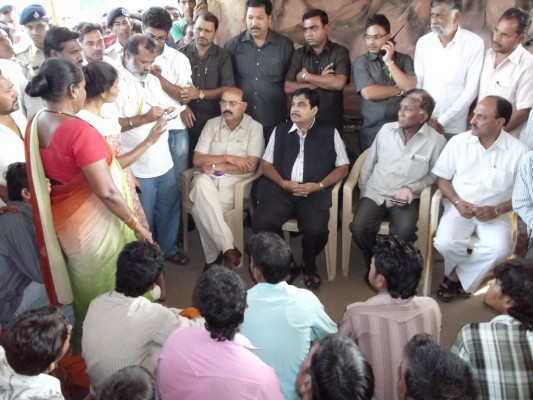 Nagpur News: BJP national president, Nitin Gadkari today visited Vasantrao Naik slum today to check on the reridents and assured that Bhuru would be punished soon. MLAs Sudhakar Deshmukh and Krishna Khopde, Mayor Anil Sole and others accompanied Gadkari. They assured of writing a letter to the Home minister. Gadkari said that he would be speaking to the CP and requested the residents not to take law into their hands. He also said that it is such a shame that this sort of 'Jungle Raaj' is existing in a city like Nagpur. Seeing that no food was being cooked in houses since the past 3 days, Gadkari made arrangements of food for them. It is being said that a few more policemen are about to be suspended in connection with this incident.
The mob lynching that took place on 10th of this month when enraged residents of Vasantrao Naik slum took law in their own hands and killed Sheikh Iqbal that reminds of the incident that took place 6 years ago when Akku Yadav was killed. After Sheikh Iqbal was killed, Sheikh Akram aka Bhuru escaped the wrath of people by fleeing the spot and taking refuge under the wings of Sitabuldi Police station. Iqbal and his elder brother Bhuru alias Sheikh Akram are criminals from Jaripatka area. But since the past few years, they were vandalizing Maharajbag, Patrakar Sahaniwas and Vasantrao Naik slum areas.  Both brothers under the wings of Sitabuldi police station were running gambling and liquor dens. The two would outrage the modesty and also rape women, teenagers and girls. 15 days back they killed a Rohit Jain from Seoni, Madhya Pradesh during Ganeshutsav after which they buried the body in a house in the slum itself. Later the police dug out body. That night Iqbal was troubling a woman in the slum. Everyone got aggravated with this because in spite of informing the police about the two brothers, nothing would happen. Tuesday evening  at 6 the goons severely beat up two youth from the slum then misbehaved with one woman. The crowd went berserk seeing this and went behind Akram and his associates with bats, sticks, clubs and whatever they could lay their hand on. In the commotion, Akram escaped while Iqbal got into the hands of the irate mob. All pounced on him and beat him black and blue. Such was the rage that they kept beating him even after he died. The next day, police dug out the body, sealed the gambling dens and made a temporary police chowki. Not only this, 7 Policemen including two PIs were also suspended. The question is that why so late ? Whose responsibility was it to mete out justice? The 1000 odd frustrated victims or the Guardians (police)?