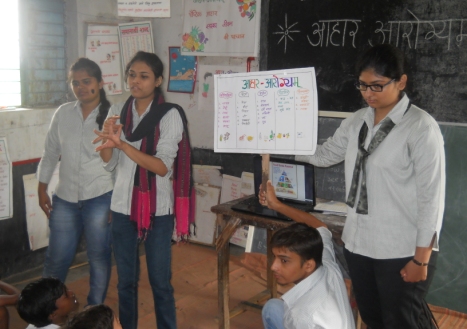 Nagpur News:
NSS chapter of G.H Raisoni College of Engineering recently held a nutrition and yoga camp at Zilla Parishad  Higher Secondary school Junewani, near Kini Hingna. The main objective of this project named "Aahar Aarogyam " was to promote the importance of nutrition and physical fitness among students of standard 5 to 7.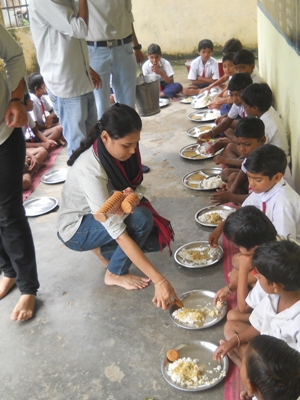 The camp started by an introduction of the NSS team given by the school principal and then after a sports kit and stationary was donated to the school by the G.H.R.C.E  NSS chapter. Following this was a pranayam and exercise session in which basic exercises and aasanas and their importance was taught to the students. Meditation exercises were demonstrated and the benefits of mediation were professed. The next leg of the camp focused on nutrition and its value in human life. Various visual aids such as charts and videos were used to explain to the students benefits of good nutrition. NSS volunteers also enlightened the students on what foods contain what nutritive value and what foods should be incorporated in their diet. Later during the mid-day meal, fruits and glucose biscuits were distributed among students as a part of nutrition drive.  Another activity taken up was getting the kids acquainted with social manners and etiquettes. A short skit was prepared and enacted by the NSS volunteers which demonstrated what good habits to embrace .Also a short memory game was conducted and stationary was distributed among students. Lastly a NSS volunteer gave a formal vote of thanks to the staff and school administration on behalf of the NSS chapter . As a token of their love and appreciation, a tulsi plant was also gifted to the school.
The camp was very well organized and executed by the hardworking students of G.H.R.C.E. The camp was informative and educational as well as enjoyed by the students as there was never a dull moment . The volunteers freely mingled with the students and were amicably received by the school kids. Also the charts prepared by the volunteers were very colourfull and understandable and were put up in classrooms . The success of the camp has further encouraged the college administration to take up more projects.