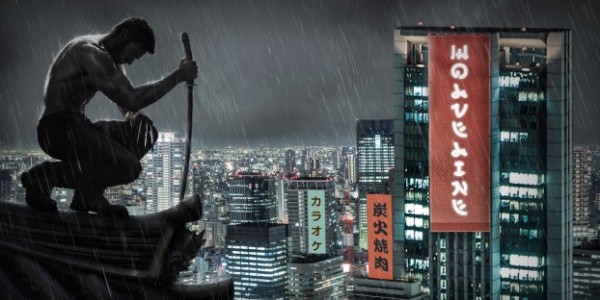 Movie            : The Wolverine
Cast                : Hugh Jackman, Rila Fukushima, Will Yun Lee
Director        : James Mangold
The Wolverine, directed by James Mangold (Walk the Line, 3:10 to Yuma) and written by Mark Bomback and Scott Frank, is also something of an anomaly in the current, unstoppable wave of comic-book-based movies. It has all the requisite special effects and big-ticket action sequences – including a fight on a moving train and a climactic punch-out between the hero and a villain in an oversize metal suit – but it also has an unusually intimate, small-scale feel. Inspired by a series published by Marvel in the 1980s, it has more old-style comic-book atmosphere than Man of Steel or Iron Man 3. Instead of expounding a tedious origin story or staging an epic battle for apocalyptic stakes, The Wolverine focuses on a specific and self-contained adventure in a richly imagined place.
The very first shot of The Wolverine is a stunning perspective. We're on the shore looking out over a large body of water. The sky is blue, sprinkled with clouds. In the distance, we see what turn out to be B-29 bombers slowly approaching. Pan to the right to reveal a Japanese POW camp, where soldiers desperately make preparations for their final moments. They release the POWS, except for one. Logan, aka Wolverine, sits in a subterranean holding cell in the middle of the camp. A sympathetic soldier named Yashida opens the cell to release the dangerous prisoner but instead of running, Wolverine pulls Yashida beneath the ground and protects him with his own near-indestructible body from the atomic blast that destroyed Nagasaki.
Cut to the present. Logan has renounced violence and is leading a solitary existence in the Yukon. That's not going to last very long, however. Yashida (Hal Yamanouchi) has sent one of his minions — a petite, red-haired, butt-kicking foot soldier named Yukio (Rila Fukushima) — to retrieve Logan and bring him back to Japan, so Yashida can personally thank him for saving his life in Nagasaki.
Oh, did I mention that Yashida is now the richest and most powerful man in Japan? He heads up a tech company and let's just say he doesn't really want to say good-bye to Logan: he wants to harness Logan's immortality. In the process, Wolverine gets mixed up with Yashida's son, Shingen (Hiroyuki Sanada); his fetching granddaughter, Mariko (Tao Okamoto); and an equally fetching but far more dangerous mutant named Viper (Svetlana Khodchenkova).
The frames canned by director of photography Ross Emery too are worth a mention. He has captured Japan with all its aesthetic beauty. He has also combined the latest digital technology with images from traditional lenses to deliver a characteristic look and feel.
Deemed to be an action film, the script provides high voltage action sporadically.  Unfortunately, the fights that keep you glued are synthetic and bloodless and the climax gravitates instead of surging to the zenith. "The Wolverine" is not a bad film at all.