Nagpur.

G H Raisoni Institute of Management & Research, Nagpur under the aegis of Raisoni Group of Institutions a Premier Group, having a prominent presence in Central India and a force to reckon with in the field of Education, introduced   'R-Idea.'  in 2011.  This National level competition is an ace business plan hunt with an objective to harness entrepreneurship and business planning skills within B-school students.
R Idea is an out of classroom programme  that has listed growing sectors in India as categories for business plans (B- Plans) such as Social Impact,  Go Green/ Clean Technology, Information Technology/Web/Mobile,  Health Care & Hospitality and  Social Impact.
This programme was initiated to help each participant to travel progressively from their classroom confined power point presentations to execution for survival and profits. This is the 4th Consecutive year when the G H Raisoni Institute of Management & Research is organizing this event.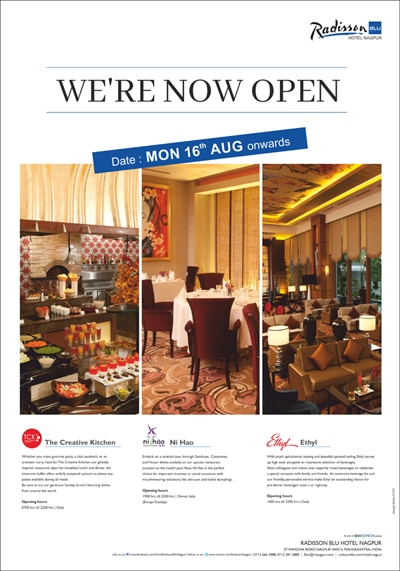 The 4th consecutive B-Plan competition has received an overwhelming response from IIM's, IIT's and top Management B- Schools from all over India. Over 120 business ideas were received and of these around 60 were peer reviewed and shortlisted.   40 plans will be presented to an elite panel of jury comprising of investors and Venture Capitalists.  The participants are coming from Bangalore, Ahmedabad, Mumbai, Pune, Chennai, Delhi, Jaipur, Jabalpur, Indore, Aurangabad, Bhandara, Wardha and local teams of Nagpur.
This  R Idea B- Plan hunt will test the mettle of aspiring businessmen who are currently undertaking various business lessons from courses like BBA, BBM,
B Com, B CA, B E, and MBA. The service sectors in India that majorly contributes to India's GDP (Gross Development Product) require seasoned entrepreneurs. Sustained businesses in these sectors will create better employment opportunities. With our knowledge and incubation partner, the endeavor is to select the best business plan submitted by the students and showcase it to the investors.
Raisoni's flagship campus in Nagpur will host the Mega event for two consecutive days (March 10, 2015 and March 11, 2015) for short listed participants that will include B-plan presentations, an idea showcase and live one-on-one sessions by top investors, managers and entrepreneur profiles. The special idea showcase will invite the participants to present their B- plans in the presence of investors, the incubation institute and customer panel. Semi final participants can expect feedback and networking through mentoring session by top investors and capitalists.

Three best B-Plans winners will be awarded 1st Prize – Rs. 3,00,000/- in  cash.
2nd Prize – Rs. 2,00,000/- in cash and 3rd Prize – Rs. 1,00,000/- in cash.
The inaugural session is at the hands of Executive VP, Suzuki Motors, New Delhi Anil  Kumar  Munjal on March 10, 2015 at 9.30 am. Key Note Speaker for is Founder, Rural Relations Pradeep Lokhande. Joint Director, DIC Vikas Jain will address the gathering on "Exploring the Financing Landscape from Government point of view for young startups"
It will be followed by Sector wise B Plan track/sector wise.
After the presentations, there will be a "My story session" by Founder of Slum Soccer Abhijeet Barse followed by Networking Dinner.
On March 11, 2015 there will be a visit to the Incubation Center at GHRCE by the participants. It will be followed by Final Presentations of TOP Ten finalists.
After lunch there will be a workshop on "Social Media- a game changer" by Nikhil Verma of Digital Vidya.
The Valedictory function will be presided over by Program Director-Startups & Early stage ecosystem BW Ashu Agarwal followed by Prize distribution and Certificate distribution.
G H Raisoni Institute of Management & Research & Raisoni Group of Institutions, Nagpur having a philosophy of innovation led growth has pioneered many epoch making and innovative practices to create a rich pool of professionals and entrepreneurs.  Through Ridea it is the endeavor to create a platform for budding entrepreneurs to reach the pinnacle and contribute to the nation's wealth.
The Management & Engineering students, professionals and Academicians are invited to the Inaugural, Tracks and the Valedictory Sessions and be a part of the Knowledge sharing event which is a unique experience in Central India.