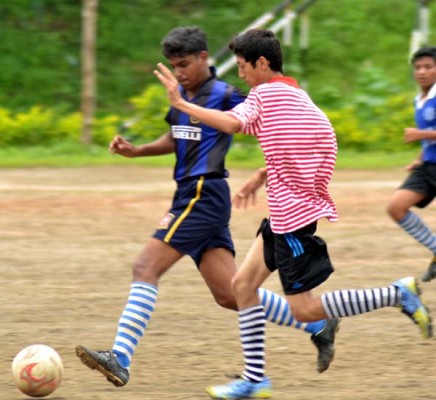 Nagpur News: The fourth match of the Second Round turned out to be a cliffhanger and the excitement reached its peak when the match between G.H. Raisoni and Tuli P.S. went scoreless at regulation time. In the tie-breaker, too, the G H Raisoni boys emerged victorious by a thin margin as the score stood at 3-2. The match was the part of SGFI Under-14 (Boys) of SUBURB Football-2013Tournament.
SUBURB Football-2013
SGFI: Under-14(Boys)
Second Round.
1st match:MM Rabbani 1 (Md Taufique 2nd min) bt St Xavier's Hingna 0.
2nd match: Jain International 2 (Vidit Kohad 5th, Rerant Singal 30th min) bt Montfort (35th min) 1.
3rd match: Prerna P.S. 1  (Sohail Shrikhande) 0.
4th match: G.H. Raisoni and Tuli P.S. 3-2 via TB.  RT=0-0. TB: Raisoni: 3 (Kartik Shirsagar, Ashish Kumar, Pranay Dhamke). Tuli PS: 2 (Shreyas Zad, Ashish Nikose).
5th mach: St. Joseph's Convent bt Sacred Heart Academy 3-2 via TB. RT=0-0. TB: SJC: 3 (Imran Anrari, Jatin Thapa, Ritik Wasnik). SHA: 2 (Mukesh Basole, Anurag Kathoria).
6th match:Narayana Vidyalayam bt SOS via TB 3-1
Regulation Time: 0-0
TIe-breaker: Narayan Vidyalaya 3 (Sanskar Mishra, Amit Lambat, Paritosh Potdar). SOS 1( Kaustub Tupkar)
7th match : BKCP Kanhan 3 (Nehal Bathow 22nd, Mohd Naaz 26th, Mayur Deshmukh 31st mins) beat Ira International 0.
SGFI SUBURB Under-17(Boys)
Second Round:
1st match: Ira International 3(Shashank Bannare 14&35th min, Aviral Yadav 25th min) beat Sacred Heart Academy 0.
2nd match: Narayan Vidyalayam 3(Rishab Buty 1st min, Abhijeet Mohitkar 8 & 37th min) beat Montfort 0.
3rd match : St. Xavier's High School 3( Jwala Chaudhary 33rd & 39th min, Ninad Shelgaonkar 43rd min) beat Bhawan's Mauda 0.
4th match : K John PS beat Jain International via sudden death 1-0
Regulation time : 0-0
Tie-Breaker : 0-0
Sudden Death : K John 1(Shubham Dharne ) ; Jain 0.
5th match : D Y Patil win St. Paul Hudkeshwar did't turn up on schedule time.
6th match : Bhonsla Military School 1(Iazo Mihu 20 & 36th min) beat Pragatik Vidyalaya 0.
7th match : St. Ann's 4( Mohsin Sheikh 11th & 34th min, Sajid Ali 20th min, Manish Dube 45th min) beat VTC 0.