Nagpur News :
Government Polytechnic Nagpur an autonomous institute of government of Maharashtra was established on 14th July 1914. Celebrated its 100th foundation day on July 14,2014.
"Initially it was known as "Engineering School" .The institute started with 16 students on roll in Civil and Mechanical engineering. Govt Medical college , Chitrakala Mahavidyalaya, VRCE and ITI were started in this institute and shifted to their current campus," said Joint Director of Technical Education Nagpur, Gulabrao Thakre
The institute is spread over 22 acres of land. Three Englishman were the first Principals from 1914 to 1937 namely M.Owen, J.Greehaulha and Major F Caradon.The First Indian Principal appointed was Mr. C.C.Chaterjee in 1938.Till date 19 Principals have lead the institute as head of the institute.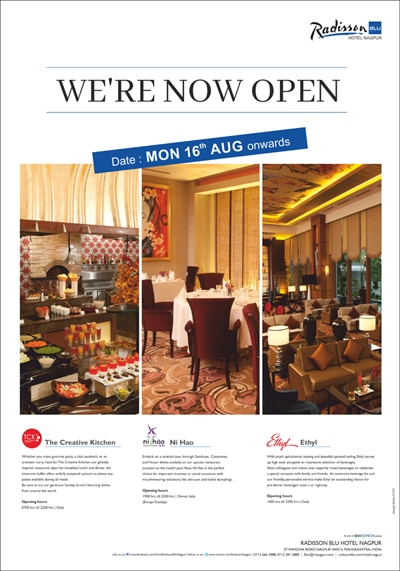 Currently 2800 students are undergoing technical education in 12 engineering disciplines. Three programmes are run in second shift namely Civil , Mechanical and Electronics and Telecommunication engineering.87 faculty , 133 non teaching staff are on roll today. The first year intake of the institute is 830,informed Prof.Deepak Kulkarni, Principal Government Polytechnic.
Few renowned alumni of the institute include Dr.S.T.Deshmukh Ex Vice Chancellor SGAmaravati University, Khushalrao Gedam Ex Director Vocational Education Nagpur, Vivek Naik Managing Director Applechemie group, Pankaj Lalla , GM (Operations) Shapoorji Pallonji Engineering and Construction Nagpur, Anil Bharuka Director Prathamesh Industries.
The institute has successfully implemented World Bank assisted Project , Canada India Industry Institute linkage project , technical Education Quality Improvement Programme (TEQIP) till date.
As a lead centre of the region the institute also extends services to society and community through need based Continuing Education Programmes through out the year. More than 1700 students are pursuing short term CED job oriented courses in the current year. The revenue generated in the year 2012-13 is apprx. Rs 1.70 crores. Other services such as material testing , training to Industry personnel, conduct of MSCIT and computer related examinations for society and employees of other organizations etc. are also offered.
Institute has received a Direct Central Assistance grant of Rs 2 crores in 2013-14 for Modernization of laboratories and workshops. Additional Girls Hostel under DCA scheme is also sanctioned for the institute with 54 capacity. Various departments of the institute have received grants of over Rs. 50 lakhs till date from scheme of AICTE for Modernization of laboratories as well, said Prof.Deepak Kulkarni.
Institute has fully developed Library with more than 11,000 titles and 45,000 books.
The institute has a strong industry linkage through Industry Institute Interaction cell. This cell headed by Training and Placement Officer organizes campus interviews, helps departments in arranging industrial visits ,industrial study tours, training etc. Around 10 multi national industrial houses have visited this institute for campus placement in last year. The list includes L&T, ACC , Sunflag, Volvo, TATA Motors, Uttam galva and others. Industrial Motivation campaigns were also organized by Ministry of MSME GOI and MITCON for the final year students
The institute has MoUs with industrial houses for mutual benefits and benefit for society. Institute has signed MOU with some of the reputed industrial houses TATA Motors Ltd. Pune; BOSCH Ltd. Bangalore and Ashok Leyland , Bhandara and TVS Motor Co. Ltd.
The institute had organized technical events in January – March 2014 in the centenary year namely "GENESIS-13" , INFOCOM , TECHNOSPARK , TORQUE 100 , TANTRA SHATABDI TECHFEST in which more than 1000 students of this institute as well as other institutions participated.
Institute is transferring technology to rural people through execution of "Scheme of Community Development through Polytechnics" under Direct Central Assistance of MHRD Govt. of India. Six centres have been established at different rural places near Nagpur.1800 technical manpower and 400 human resources have been trained under the scheme from 2009 till date.
The Alumni association of the institute POLYTECHMITRA is registered under Charity commissioner and conducts "Career Guidance Program" & "Motivational Talks" every year for institute students.
Gulabrao Thakare Chairman Governing Board of the institute and Joint Director technical education Nagpur region addressed the press conference. Prof.Deepak Kulkarni Principal Officiating, Prof R.E.Gajbhiye training and Placement Officer and Coordinator centenary celebrations , Prof.Sunil Joshi Head (Officiating) Mechanical engg second shift , Prof.S.S.tadas Assistant Director (Technical) (Officiating), and Prof.Satish Ukey officer on special duty were prominently present during the press conference.
All alumni of the institute are requested to send their suggestions , ideas to principal@gpnagpur.ac.in and they can also visit www.gpnagpur.ac.in informs the press release.