Jambuvantrao Dhote & Brigadier Sudhir Savant's appeal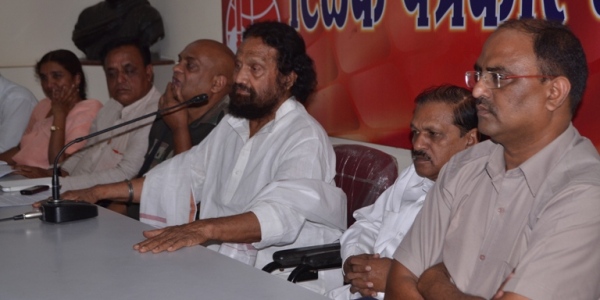 Nagpur News.
Due to the pressure of American imperialistic policies,  our country is becoming a slave. The National Vice-President of Forward Block Jambuvantrao Dhote alleged that Prime Minister Manmohan Singh, Congress Party and BJP are acting like a corporate agent.
Our natural resources like land, water and forest is being looted by these people.
He added that due to Inflation, Corruption, Unemployment, Social Injustice the country is in distress.
At this stage, the citizens of the state and the country is left with no option but to search for an alternate and powerful party apart from NDA & UPA to rule the country.
In this era of global advancement, the leaders of many small parties are bowing before financial powers.
At a similar antisocial period 350 years ago, King Chatrapati Shivaji too had tightened his reigns and had challenged the powerful Moghul empire by gathereing forces by uniting smaller leaders and powers. He then established Swaraj (self-governance) based on equality. Similarly, before independence too Ajad Hind Sena and Azad Hind Sarkar under the leadership of Subhash Chandra Bose dared to oppose and fight against the Bristish capitalistic empire.
In a historic move, the Forward Block led by Jambuvantrao Dhote and Shivrajya Party led by Brigadier Sudhir Savant decided to come together in their struggle for a Separate Vidarbha. They strongly felt that a separate Vidrabha can be gained only by struggle.
Therefore in order to combine both the powers to come together this meeting has been organized. The leaders of both the party jointly pleaded all well wishers and co-workers to be present in large numbers.
Jambuvantrao Dhote also requested the journalists to join and support the campaign.
He also added that they intend to declare Vidarbha bandh on the first day of the Legislative Assembly on December 9, 2013.