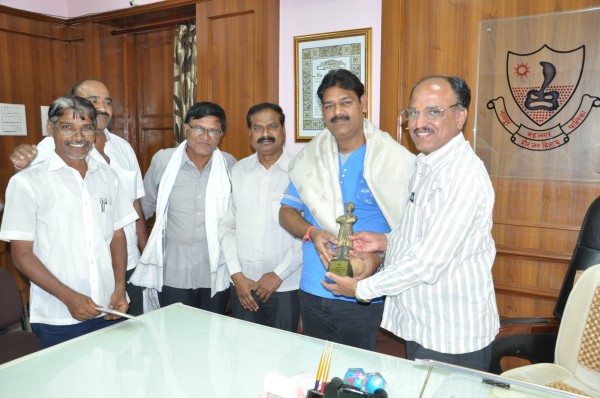 Nagpur News: The Nagpur Municipal Corporation (NMC) welcomed a distinguished guest in Sanjay Singh, former Patna Mayor and now the Chairman of Water Board in Bihar. Sanjay Singh was on a goodwill visit to NMC, and was welcomed and felicitated by Mayor Anil Sole by presenting him a shawl, "Shriphal" and an idol of Swami Vivekanand.
The prominent personalities present on the occasion included Deputy Mayor Sandeep Jadhav, Standing Committee Chairman Avinash Thakre, Ruling Party leader in NMC Pravin Datke, BSP leader Murlidhar Meshram, Shiv Sena Group Leader Sheetal Gharat, Bharip Mahasangh Party leader Raju Lokhande, Rahul Telang, former Chairmen of Standing Committee Dayashankar Tiwari, Sandeep Joshi, former Corporator Manoj Sangole, and others.
It may be recalled, Sanjay Singh has an old connection with the Orange City as he got married in Nagpur a few years back. From then onwards, he was observing in great details the development of Nagpur city. Sanjay Singh's interest on Nagpur increased manifold when he became a Corporator of Patna Municipal Corporation (PMC). Singh also carried out many developmental schemes of PMC keeping in mind the example of Nagpur's fast growth.
However, when Nagpur was selected as the best city in the country and bagged the award for best public transport and other residential facilities, Singh, who had understood the best facilities the Nagpur city provides in almost all fields, stabled his children in city and allowed them to study here. Now, Singh has constructed his house in Anant Nagr area and "Gruhpravesh Pojaa" is slated for May 16 and this very purpose he has arrived in Nagpur.
The former Patna Mayor Sanjay Singh has a lengthy list of his friends in Orange City and other cities prominent being Saoner MLA Sunil Kedar, Youth Forces Party Founder President Mikky Bakshi, former Deputy Mayor Raghunath Malikar, Director of Garjana Group of Hotels Pradeep Pali, Managing Director of Viyanwar Group of Hotels Sinu Viyanwar, and others. Singh always discussed and sought their advice for implementing various developmental schemes for the welfare of people through Patna Municipal Corporation.