New Delhi/Nagpur: Nana Patole, who resigned as BJP MP, has approached the Election Commission of India for delay in the bye-election in Bhandara-Gondia Parliamentary Constituency. Having been a Member of Parliament from BJP, and after giving resignation and leaving the party, Patole, who has entered the Congress fold, has demanded to hold by-election soon. After reaching the Election Commission headquarters in New Delhi on Friday, Nana Patole submitted a memorandum to the Chief Election Commissioner Om Prakash Rawat. In the letter written by Nana, there is a mention of Gorakhpur and Phulpur seats of Uttar Pradesh. According to him, the resignation of the MPs of these two seats were accepted in the Lok Sabha on December 15, 2017 along with his resignation. A few days ago, on March 11, 2018, elections were held for both the seats of Uttar Pradesh but this did not happen in Bhandara-Gondia constituency. Nana has urged the Election Commission to take cognizance of the request made by him.
Formerly a BJP MP, Nana is part of the Congress party in the present. In the presence of Rahul Gandhi he entered the Congress fold. When he was in BJP and then after leaving the party, he has been constantly attacking the BJP. He has been only targetting Prime Minister and Chief Minister Devendra Fadnavis. A few days ago, Patole held Fadnavis responsible for not holding the election for Bhandara-Gondia seat.
The Congress has become more aggressive after the results of the Lok Sabha by-election. According to Nana Patole, the defeat of BJP in this seat is sure in the by-election and hence BJP is deliberately delaying the election.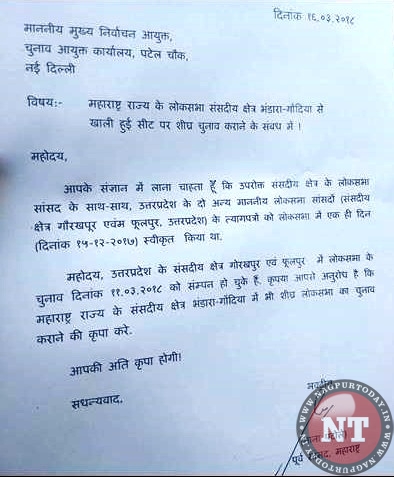 Bhandara-Gondia by-election PIL filed in High Court
It is known that a PIL has been filed before the Nagpur Bench of the Bombay High Court against the by-elections of Bhandara-Gondia parliamentary seat. In this petition the petitioner has argued that in the year 2019 Lok Sabha elections will be held. Now not much time is left, if the by-election are held now, nearly Rs 5 crores will be spent. That's why elections should not be held. Patole told Nagpur Today that he had talked to the Election Commissioner during the meeting in Chief Election Commission office in which Election Commissioner told him that the by-election is part of the election process. There will be no effect of the PIL filed in the court on this. According to Nana Patole, the hope of completing the election process soon was given by the Election Commissioner.