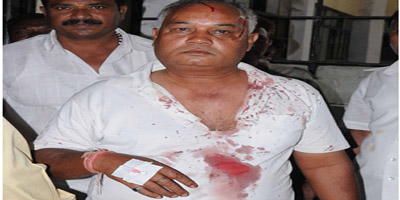 Nagpur : Tension spread in Yashodhara Nagar area after NMC's octroi department chairman Kishor Dorle, who is also a corporator, was assaulted for interrupting an argument at Baranal Square on Saturday morning.
Irked by the incident, hundreds of people hold an agitation in front of the attacker's house at Sahoo square. Apart from Yashodhara Nagar police station, SRPF constables were called to control the mob. The situation also turned worst at Indira Gandhi GovernmentMedical College and Hospital (IGGMCH) where Dorle was rushed for treatment. However, he is stated to be stable.
Minutes after the incident, the attacker Indrapal Sahoo surrendered before the police. Cops also nabbed his three sons who accompanied Sahoo in the assault.
The incident took place around 8.45 am when Dorle was walking home after his morning walk. While on his way to home, he saw Sahoo threatening and abusing a street vendor who had put up his small eatery stall in front of Sahoo's residence.
Since last two days, Nilkant Saoji has been setting his stall near Sahoo's residence. For two days, Sahoo neither created a scene nor had he warned Saoji to remove his stall. On Friday morning, Sahoo, a scrap dealer, with his three sons suddenly started abusing and threatening him to shut his stall.
"A poor Saoji would earn his livelihood from his small eatery stall while Sahoo was not allowing him. I insisted Sahoo to allow Saoji to run his business at least for two hours in the morning to get some money but he instead attacked me," said Dorle.
Dorle claimed that Sahoo didn't give him any chance to understand him and started hitting him. "I was trying to be polite but he was continiously abusing me. Before I could learn anything, Sahoo's sons hold my hands and Sahoo stabbed at my back," he said.
When Saoji tried to stop them, Sahoo threw hot tea on him. Saoji suffered slightly burn injuries.
Dorle immediately called his activist Rajesh Atkar who then rushed him to nearby hospital. POlice has registered a case of attempt to murder.
Kishor Dorle is an independent corporator of Ward no 14, new BInaki Mangalwari. He was also a former mayor.