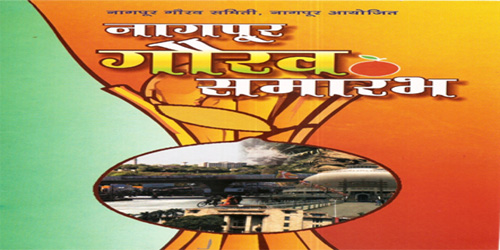 Nagpur News: Nagpur Gaurav Samiti has organized a programme to felicitate former Mayors and Mayor Anil Sole on March 25 at 6 pm, at Ladies Club. While addressing a press conference recently, Girish Gandhi, President of Nagpur Gaurav Samiti and Sandip Joshi, organizer, said that Nagpur has bagged five honourable award and contribution of former Mayors Haribhau Naik, Krishna Pandav, Atalbahadur Singh, Shriram Vaidya, Pandurang Hivarkar, Kishor Dorle, Rajesh Tambe, Kundatai Vijaykar, Devendra Fadnavis, Kalpana Pande, Vasundhara Masurkar, Pushpa Ghode, Vikas Thakre, Naresh Gawande, Deorao Umredkar, Maya Iwnate, Archana Dehankar and Mayor Anil Sole could not be neglected. Thus, the Samiti planned to organize a programme to felicitate these stalwarts who worked to make the city proud.
Datta Meghe will inaugurate the programme while former BJP National President Nitin Gadkari will preside over the programme. Avinash Pande and former MP Jogendra Kawade will be the chief guests on the occasion.
Padmashree Dr Vikram Marwah, Dr Vikas Mahatme, Prabhakarrao Mundle, deputy Mayor Sandeep Jadhav, Dr Shaardrao Nimbalkar, Yoganand Kale, Manohar Mhaisalkar, Dr Seematai Sakhre, Ravindra Durugkar, Girish Vyas, Kailashchandra Agrawal, Rajesh Loya, Narayan Demble, B C Bharatiya, Shekhar Sawarbandhe, Prafulla Doshi, Devendra Parekh, Deepen Agrawal, Tejinder Singh Renu, Aseef Qureshi, Aruna Sabane, Pramod Bhusari, Adv Anand Parchure, Pradip Maitra, Shirish Borkar, Kishor Kanhere, Dr Harish Chandak, Praful Gudadhe, Praveen Barde, Vishnu Manohar, Pragati Patil, Qamil Ansari, Vivek Ranade, Jaintunabi, Milind Mane, Raju Lokhande, Sandeep Gawai, Kishor Gajbhiye, Rahul Telang, Deepak Patel, Zulfesh Shah, Parinay Fuke, Ashwini Jichkar will remain present.
NCP City President Ajay Patil was present prominently at the press conference.