Nagpur: Since the last 15 days or so the few residents living in Sahara city on Wardha road have been petrified with the idea of a wild animal like a tiger or a leopard living in their midst in the deserted part of the large Sahara city complex.
A linesman checking on wiring claimed he had seen 'a tiger' within the periphery of the City.
Then a dog called Kalu was found dead one morning on the streets of the Sahara city. The residents took photos and buried him.
Later, looking at the photos of the killed Kalu foresters confirmed he had been killed by a predator. They advised residents to be extra vigilant and began patrolling the area.
They also burst crackers in the areas with wild growth to "scare off" the tiger.
The Sahara residents groups began sharing messages with news of the presence of the beast. They also approached me, as Nagpur Today Editor with the news.
They advised me to ascertain the facts with a Forest officer Jadhav.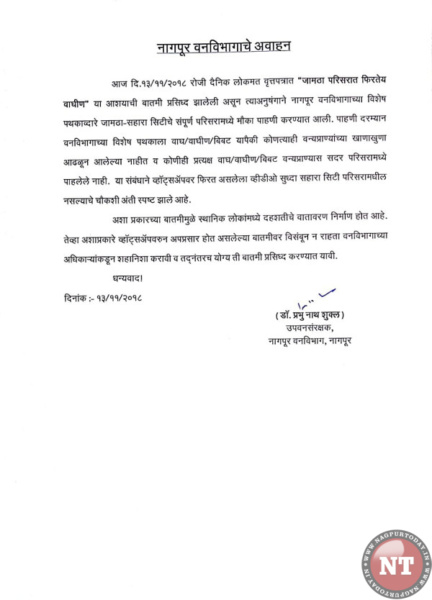 In a telephonic conversation he confirmed clearly that yes, a big cat, either a tiger or a leopard was living WITHIN the Sahara City.
That is why they had installed CCTV to capture images.
When questioned about where the cameras were installed, in the villages around Sahara, or forest behind, he categorically stated that they were only within the Sahara City as they were 100% sure the beast was living within.
Their team was photographed by Sahara residents with whom they were in regular touch.
Then why is the Forest department going back on its version now? In fact they have come up with a very unconvincing statement that there is no wild animal like a tiger or leopard in the area and "all such rumours are false".
What's at play here?
Is there pressure to change their earlier statements from the builder lobby; or local politicians or barons of Educational institutes located in the area behind Sahara?
But if this is their stance now, what happens to the safety of people living in Sahara or the villagers living in Jhari, Rui etc?
Who allays their fear and ensures their safety and well being?
Also, what happens to the wild animal who could have unawares tress passed into a human habitat?
Isn't it up to the Forest department to capture it and transfer it back to the Forest?
There have already been too many cases of frustrated and enraged villagers taking matters into their own hands and 'eliminating' an animal that is endangering their lives and lives of their feed stock and pets? Such instances have happened when foresters were ineffectual.
Hope the same will not be the fate of this animal of Sahara City.