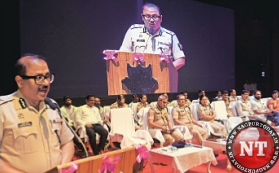 Nagpur: In a move towards more convenient and eco-friendly Ganeshotsav celebrations, the administration has introduced an online registration system for Ganesh Mandals. Police Commissioner (CP) Amitesh Kumar announced this initiative, allowing public Ganeshotsav Mandals to obtain permission from various departments, including the Police, Municipal Corporation, Transport, Public Works Department (PWD), and Fire Department, with ease.
This streamlined online process aims to simplify the administrative requirements for the Ganeshotsav. The administration assured the public that NMC, City Police, and District Administration are fully prepared to ensure an environment-friendly and peaceful celebration.
A joint meeting was conducted under the leadership of CP Amitesh Kumar, Municipal Commissioner Dr Abhijeet Choudhary, District Collector Dr Vipin Itankar, Additional Municipal Commissioner Anchal Goyal along with office-bearers of Ganeshotsav Mandals and NGOs.
The meeting discussed government awards for outstanding mandals during this year's Ganeshotsav, online registration procedures for Ganesh Mandals, and plans for a peaceful procession. CP Kumar emphasised the readiness of the police system for Ganeshotsav and pledged to expedite the permission process, minimising inconvenience to citizens. He urged citizens to follow guidelines for a peaceful celebration and cooperate with the Police Department.
Municipal Commissioner Dr Abhijeet Choudhary stressed on the NMC's commitment to an eco-friendly Ganeshotsav. The online permit system was introduced to simplify the process for citizens, and one window system was set up for mandals facing online difficulties. Dr Choudhary also encouraged the use of eco-friendly Ganesha idols.
POP idol to invite Rs 10,000 fine
The authorities have banned the purchase, sale and store of the idols created by using Plaster of Paris (POP). Anybody found selling, buying, or storing Plaster of Paris idols will be fined to the tune of Rs 10,000. Such idols will also be seized. As per the demand made by Murtikar Sangh, the deposit amount has been brought down to Rs 500 from Rs 5,000 instead of waving off completely. People who prepare idols will be given a space 10X10 feet for which they have to pay Rs 1,000 per day.
Best Ganeshotsav Mandal contest announced
District Collector Dr Vipin Itankar highlighted the importance of celebrating an eco-friendly Ganeshotsav and announced a state-level competition for the best Ganeshotsav Mandal in 2023, focusing on environmental responsibility. To register a Ganesh Mandal online, citizens can visit the municipal website https://nmcnagpur.gov.in/RTS/ws/user/ login.do, enter the required details, agree to the terms and conditions, fill in the necessary information, upload relevant documents, pay the fee, and receive a registration number.