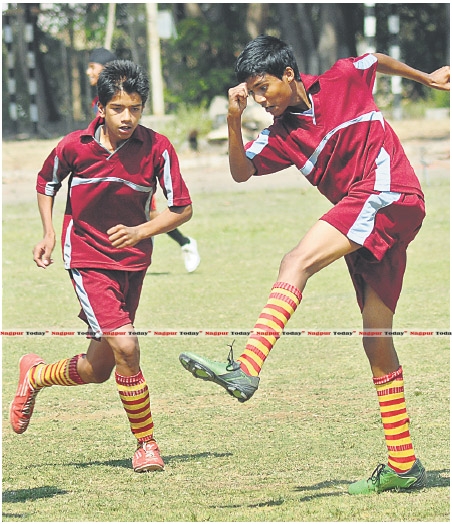 Nagpur News : In what was a goal rout, Sandipani High School imparted a 5-0 football lesson to Guru Gobind Singh School during Jawaharlal Darda Memorial Inter-school football tournament organised by NDFA on Tuesday at Police Line Ground Takli. Harsh Tehliani's stole the show with a fine hat-trick, booking a quarter final berth for his team in the process.
Sandipani put their noses in front right from the very first minute of the match though Himanshu. Abiraj Bhurange doubled the difference in the 10th minute before Harsh Tehliani netted the first of his treble. Within the first few minutes of the second half he added his second of the match as Guru Gobind found themselves down by a daunting 4-goal margin. In the dying minutes of the match, Harsh struck again, completing his hattrick and an emphatic victory over their opponents.
In other results, SFS High School recorded an easy victory over Montfort. Goals on either side of the interval from Yash Yadav and Jeevesh made sure that SFS finish top of their group to qualify for the quarter final stage. CDS also secured a place in the knock out round with a 1-0 win over CPS Dhaba, courtesy of a solitary goal from Shahbaz Ansari.
Guru Nanak High School edged past Ira International in a dead rubber after a 1-0 victory sealed by Sharad Lautere's 33rd minute strike.
Another dead rubber saw Islamia beat Qidwai 2-0 with two strikes, one each from Shoeb and Azhar, within the space of two minutes. BVM topped their group with 10 points.
Somalwar got their first points of the game through a walkover, which were enough to save them from finishing last in their group. But not enough for qualification.
After Tuesday's matches, top teams from each of the eight groups have qualified and lined up for the quarter finals, which will be played on Wednesday.