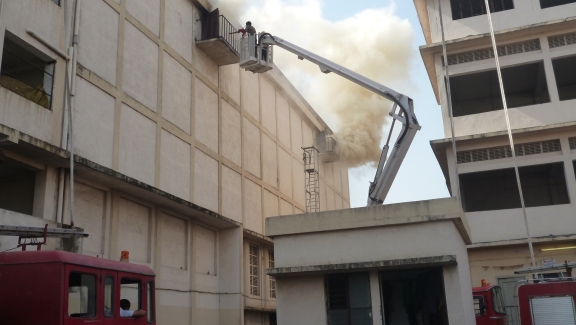 Nagpur News: Firemen are having a hard time to control the fire that broke in a cold storage building on Wednesday early morning. On the second day of the incidence, 8-10 fire tenders were deployed to control the devastating fire.
Sources said, Nagpur's ever rising mercury is adding to the problems of firemen and it will take another day or two to control the fire completely.
It is noted that a fire broke at one of the four building of Shree Ganesh Cold Storage building owned by Subhash Jain. Security guard saw the huge flames coming out of the building and immediately informed Subhash Jain about the incidence. Jain later informed fire fighting department. Fire are constantly at work to control the fire but chilly power, and other spices kept in the storage worked as hindrance in the operation. Nagpur's every rising heat also has worked as fuel in the already burning building.
Sources said that firemen are trying hard to control the fire within the building and are trying to stop it to spread in the remaining three cold storage buildings. Firemen suspected that the building may soon collapse with the rising heat from all sides.
It is said that 70,000 sacks of material worth crores of rupees was stored in the building. Though reason of the fire is speculated to be short circuit at the ground floor, the exact reason is yet to be ascertained.
"As many doors are locked from inside, we are having problem to locate the direction of the fire," said a fireman.
Sources said that important documents kept in the office of the building have been safely recovered. Thus, it will help to count the number of material kept in the storage. It is noted that when the Kalamna cold storage building was collapsed last year, all the documents were buried under the debris which couldn't be recovered. Thus, it was impossible to generalise as how much material was kept of various traders. But, firemen worked smartly and recovered all the important documents from the office.