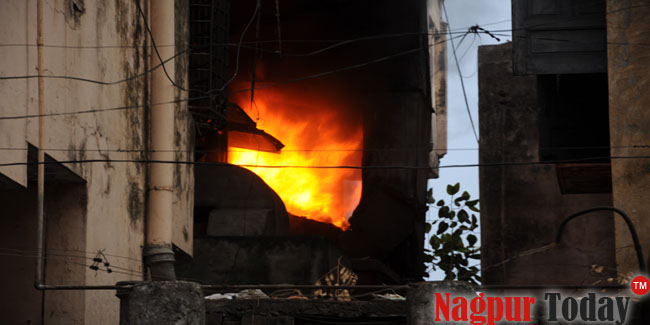 Nagpur News : Panicked gripped at Gandhibagh wholesale cloth market area at Nanga Putla square after a major fire took place at one of the cloth store on Sunday evening. The fire broke out around 5 pm at Himani Saree centre owned by Surendra Madan, a resident of Sangh building in Mahal. and lasted for three hours.
It was learnt that the narrow lanes and congested streets hampered rescue efforts and fire tenders service. An onlooker claimed that the rescue team people have to struggle to take their vehicles inside and reached the water pipes to the shop.
Chief fire officer, Rajendra Uchake informed that there was some repairing work going at the ground floor of Himani Saree centre. The shop which is spread on two floors is very congested and the stairs are also built in wrong way due to which fire spread to maximum areas of the shop.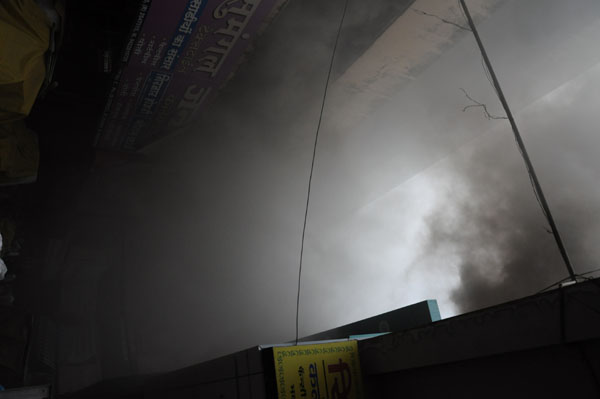 Short-circuit is suspected as a reason behind the fire. Neighbouring shops mainly known Saunsar Saree centre and Asha Saree centre were minutely saved from the flames.
"The fire officers reached on time and even the neighbouring shop owners wind up the shop immediately before the fire spread. Luckily, there was no injuries to anyone," said fire official.
Though Madan was unable to estimate the losses, it was roughly figured out to be more than Rs 50 lakhs.