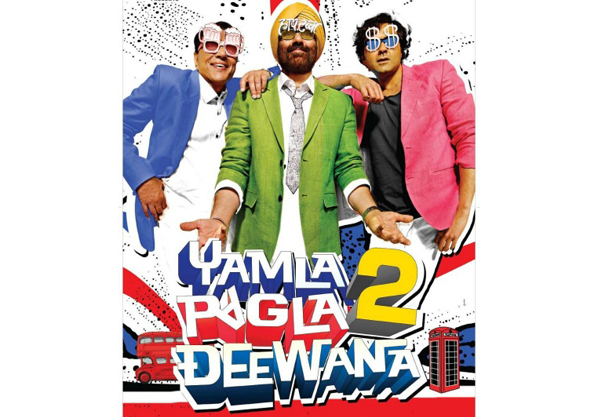 Cast: Dharmendra, Sunny Deol, Bobby Deol, Neha Sharma, Kristina Akheeva, Annu Kapoor, Anupam Kher, Johnny Lever, Sucheta Khanna
Director: Sangeeth Sivan
Plot: Dharam, Sunny & Bobby, Deols earlier struck an emotional chord with the audiences worldwide as 'Apne' in 2007 and took you through a laugh riot as 'Yamla Pagla Deewana' in 2011.
As per the prequel we know Dharmendra as Dharam is a con man, who makes a luxurious livelihood along with his younger son Gajodhar (Bobby Deol) in Varanasi, despite having an affluent elder son Paramveer (Sunny Deol) in the UK.
As the film opens, Paramveer's undying faith in God is introduced to the audiences. He is indeed a one-man army who doesn't refrain from calling spade a spade. Nonetheless, Paramveer's father and brother take pleasure in conning people despite being supported by him financially and otherwise.
The two thugs – Dharam and Gajodjar – lay a trap to get hold of a UK-based businessman Sir Yograj Khanna (Annu Kapoor), who travels overseas to seek Yamla Baba's (Dharmendra) blessings.
And with him comes his pretty daughter Suman (Neha Sharma), a diehard fan of Bollywood superstar Salman Khan. Dharam wants his son Gajodhar to impress Suman and thus make way to a plush visit to the UK along with Khanna, the multi-millionaire.
As the father-son thug duo land in the UK, they realise that they have indeed asked for trouble, for they weren't aware that Paramveer works for Khanna. There is another agenda, of course. For Gajodhar – of the fictitious Oberoi Oberoi and Oberoi Industries fame – to marry Suman (Neha Sharma), daughter of assumed billionaire Sir Yograj (Annu Kapoor) for money. Except, it turns out she's not his daughter, but *like* his daughter. Semantics, semantics. His real daughter is Reet (Kristina Akheeva), who very quickly becomes the apple of Param's needy eyes.
Dharam is not that garam , sunny plays the same old sardar with "Dhai kilo ka haath" and bobby is still in the course of acting.
The new thing to see is the new face Punjabi-Brit 'soni kud'i called Reet (Akheeva).
Music is great, and the dance number are foot tapping.
Verdict: YPD 2 is not that funny, do not compare with the prequel.
: Yash Raj Trivedi