61% of employers in India struggle to fill jobs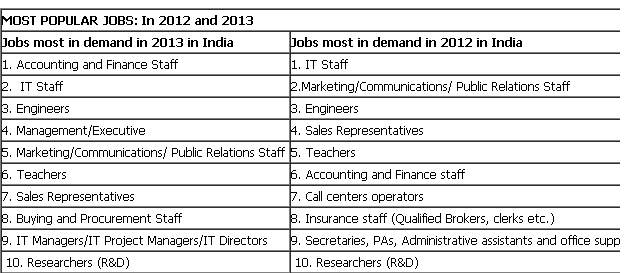 Nagpur News: While talent shortage has been an existent problem, the situation is expected to turn worse as this problem intensifies around the world. The Annual Talent Shortage Survey by human resource firm Manpower Group India said that worldwide talent shortage has local impact with 61% of employers in India struggling to fill jobs. This is considering the fact that the Global Average stands at 35%.
The global results of Manpower Group's Talent Shortage Survey reveal 35% of employers worldwide are reporting shortages, the highest level since prior to the global economic crisis. Japan has one of the gravest shortage situations with 85% employers having difficulty in finding talent.
The study said that employers in India have the most difficulty filling jobs in accounting and finance, IT staff and engineers, as compared to last year when IT staff, marketing/public relations/communication and engineers were the most difficult positions to fill.
The global study further revealed that apart from employers in Japan, those in Brazil (68%) are having the greatest difficulty finding the required talent, while those in South Africa (6%), Ireland (3%) and Spain (3%) report the least difficulty.
According to the global results, India and China are the highest-ranking countries for offshoring, ranking in first and second place, respectively. However, the study said that these countries also show some of the largest increases in talent shortages between the 2009 global low-point and the latest survey. For example, in 2009, 20% of employers in India reported difficulty filling jobs. Four years later, the figure has increased to 61%.
A G Rao, Group Managing Director ManpowerGroup India said, "Accountants and auditors are responsible for a wide assortment of tasks ranging from bookkeeping to tax preparation to strategic planning like advising companies on how to cut costs and increase profits. The recent global financial crisis has been a significant driver of growth in the accounting sector. Further, with the Internet becoming a ubiquitous part of almost every individual, a lot of business activities have moved online making it a necessity to have skilled IT staff."
The research shows that globally the roles most difficult to fill are skilled trades workers, engineers and sales representatives, which is unchanged from last year. It also showed that employers reported that accounting and finance and management positions are also increasingly hard to fill.
Despite acknowledging the impact talent shortages have on their business, the study said that 22% of employers are not changing course to identify new ways to address these shortages.
The global study noted that while employers increasingly recognize that the talent shortage poses a serious threat to their business competitiveness, many appear to be at a loss for answers with more than one fifth reporting they are doing nothing at all to address the problem.