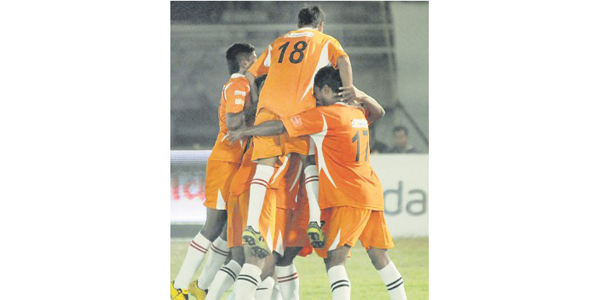 Satvik Bulls players celebrating victory over Raisoni Achievers in Lokmat's NPL Football Tournament at Yashwant Stadium on Wednesday.
Hardik Kanojia's spectacular header in the dying minute gave Satvik a  sensational 3-2 victory over Raisoni Achievers in Lokmat's Nagpur Premier League Football (NPL) Tournament at Yashwant Stadium, here on Wednesday.
With just few minutes remaining for the whistle, under-19 player Kanojia headed the winning goal from a right flank cross of Azhar Sheikh to give remarkable victory to Satvik Bulls who had failed to win any match in the second edition of NPL.
Abdul Jafar's brace went in vain for Raisoni Achievers. The first half was lackluster as it ended in stalemate with neither team scoring. The forwards of both the sides lacked coordination and also adopted rough tactics. Except two moves of Raisoni Achievers there, was nothing substantial. Savtik goalie Imran Khan saved the team from facing goal twice in the first half. First in the seventh minute he brilliantly saved solo attempt of Abdul Jafar and then ten minutes later he thwarted Nitin Tigga's attempt from inside the D area.
With just one minute remaining for the break, Satvik Bulls scored much awaited goal. Thanks to Mohamad Bilal who scored excellent left footer when the ball returned from side bar on Nigerian player James Effiong's effort.
However in the second half, the spectators witnessed aggressive play from both the teams. In the 47th minute there was extreme joy in Achievers camp when Abdul Jafar equalized the score through header on Allison's pass. Raisoni had an opportunity to take the lead but Allison missed an open net as he misjudged the ball in the 53rd minute. In the 57th minute City Police player Kailash Pardhi gave 2-1 lead to Satvik from top of the goal area in the 57th minute.
Abdul Jafar, who looked in good rhythm right from the word go leveled the score for Raisoni ten feet outside the goal area. Satvik defenders misjudged it as a off side and in counter attack Jafar found the net. When it appeared that the match would end in 2-2 draw, Kanojia scored winning goal for Satvik. Kailash Pardhi of Satvik was declared best player of the match. Abdul JAfar was adjudged as best player from losing side. Earlier IGNOU Nagpur centre director Dr P Shiv Swaroop and director of Somani Speech Therapy Centre Dr Ramanand Somani were introduced to the players who were present with the players for the toss.