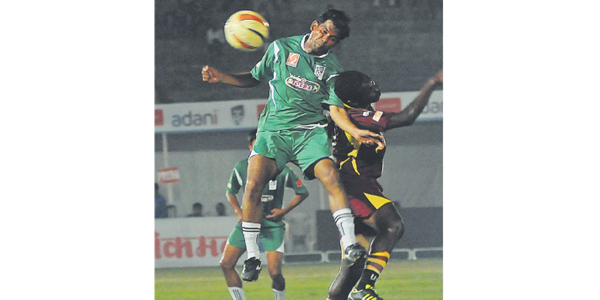 In an interesting tie, defending champions  Sunil Hitech Warriors survived a  scare put forward by Vatsalya Riders in a group B match which ultimately ended in 2-2 draw in Lokmat's Nagpur Premier League (NPL) Football Tournament at Yashwant Stadium, on Wednesday.
Godwin MBA's penalty goal   in the 87th minute saved Warriors from facing defeat. Earlier in the tenth minute Warriors tasted early success when their icon player Sushant Bhivgade scored spectacular leftfooter from top of the D area. Three minutes later Vatsalya wasted an opportunity to level the score when Mehul Rana's direct free kick sailed above the cross bar. Warriors Nigerian player Badru Ibrahim who had played an important role in last year's title victory was unfortunate for missing an open net. Vatsalya should thank their goalie Mohammad Mohtashim for saving attempts of Rizwan and Altaf Ali. First in the 27th minute he brilliantly punched away an attempt of Rizwan and then in the 35th minute Altab Ali's header on right flank cross directly landed in Mohtashin's hand.
Finally in the 40th minute Vatsalya Riders succeeded in restoring parity.Thanks to their professional player from Bilaspur  Sabit Majhi who netted spectacular goal on free kick. There was lot of excitement in the second half also. Despite injury Vatsalya custodian Mohtashin did a good job under the cross bar.
In the 60th minute, Mehul Rana gave 2-1 lead to Vatsalya and brought  smiles on the face of its owner Praful Gadge. After trailing by 2-1 Warriors, had no option but to go for the kill. In the 87th minute, they earned penalty due to the rough tackle of Vatsalya Riders player inside the D area. Warriors Nigerian player Godwin MBA made no mistake and perfectly converted it to save the team from  defeat.
Sushant Bhivgade (Warriors) and Subir Majhi (Vatsalya) were declared best players on the night.