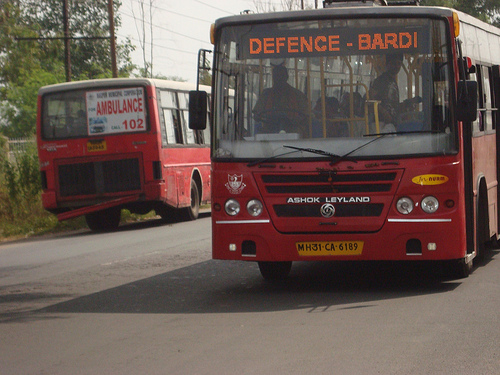 Nagpur News: The cash-starved Nagpur Municipal Corporation (NMC) could heave a sigh of relief as the Central Government, after holding back funds over poor Star Bus service, has finally sanctioned Rs 11 crore for the city bus service under the Jawaharlal Nehru National Urban Renewal Mission (JNNURM) scheme. The funds were sanctioned after full three years.
The Municipal Commissioner Shyam Wardhane and Nagpur Mahanagar Parivahan Limited (NMPL) Director Mahesh Moroney rushed to Delhi to convince the Sanctioning and Monitoring Committee of Ministry of Urban Development (MoUD) to release the funds.
At the meeting, Wardhane made a presentation highlighting improvement in city bus service. The civic chief also cited civic body's financial crisis for getting the funds sanctioned. He informed the MoUD's sanctioning and monitoring committee about the notice served by Tata Motors due to delay in payment towards the procurement of buses since 2010, sources said.
While sanctioning the funds, the committee decided to deduct 10% of total Starbus project cost for NMC's failure to comply with norms, sources said.
According to the details available from JNNURM monthly progress report, MoUD had earmarked Rs63.60 crore for procuring 300 buses in February 2009. NMC procured 240 buses for Rs 52.80 crore. The Centre and State Government sanctioned Rs 22.26 crore in first installment. The remaining Rs 14.70 crore were stopped following poor performance. Even city MP Vilas Muttemwar made regular complaints about deficiency in the city bus service.
The Nagpur MP Vilas Muttemwar, Opposition Leader in Nagpur Municipal Corporation Vikas Thakre and other Congress Corporators had met the Chief Minister Prithiviraj Chavan in Nagpur. Muttemwar had submitted a memorandum of demands pertaining to NMC's various proposals on various important issues.
One of the demands concerned to the Star Bus service, which, Muttemwar had claimed, was in very bad shape. He had asked the Chief Minister to take up the issue with Central Government and demand release of funds in order to improve the Star Bus service in Nagpur. The positive outcome of the meeting Muttemwar had with the Chief Minister is that the Central Government releasing the funds of Rs 11 crore which were held back for three years due to poor service by the Star Bus.
Now, after the funds are sanctioned, the NMC will still have to bear Rs3.69 crore from its coffers following 10% deduction by the MoUD. The NMC will have to recover the balance funds from the Starbus operator Vansh Nimay Infraprojects Limited (VNIL). VNIL has so far deposited Rs 14.69 crore out of a total Rs 15.84 crore it was to pay the NMC.