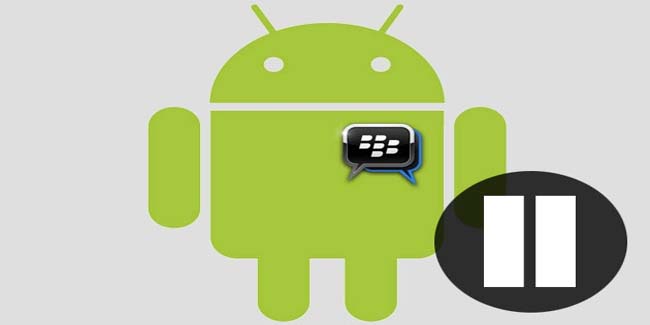 While the release of BlackBerry's new smartphones running the BB 10 OS have so far failed to generate widespread interest, one product that actually kept millions waiting has hit the pause button.
The much-awaited global rollout of BlackBerry's BlackBerry Messenger (BBM) app for Android and iPhone has been stopped by BlackBerry citing technical issues. While the BBM for iPhone rollout began on schedule on Saturday from New Zealand and also being available to Indian users the Android app's availability kept on getting delayed. BBM for Android was scheduled to arrive on the Google Play Store at 4:30 PM IST (7 AM EDT) on Friday.
Also the official BBM Twitter account (@BBM), whose followers swelled in number over a few hours, wasn't of much help for people waiting eagerly. It had a few jokes to share and an apology much later but didn't clear the air about what was actually causing the delay in the Android app rollout.
Finally, after more than 12 hours of BBM for Android's scheduled availability time, Inside BlackBerry, the official BlackBerry blog, had a three-paragraph post that put the blame for the delay on "an unreleased version of the BBM for Android app" that was posted online. According to BlackBerry, "more than 1.1 million active users in the first 8 hours without even launching the official Android app."
But the user eagerness in getting BBM on their non-BlackBerry phones led apparently led to some issues. "Consequently, this unreleased version caused issues, which we have attempted to address throughout the day," the post by BlackBerry's Business Social Media Manager Luke Reimer said.
As a result the unreleased Android app will be disabled and BlackBerry has stopped, for now, the global roll-out of BBM for Android and iPhone. Those who have downloaded the BBM for iPhone from the Apple App Store, will be able to continue to use BBM.
This means that, for now, the BBM for Android and iPhone has been put on hold until further notice. "These issues have not impacted BBM service for BlackBerry," BlackBerry clarifies.
BlackBerry had first announced its Android and iOS plans for BBM on May 14 during the launch of its Q5 smartphone and confirmed the availability dates on September 18.
BBM has more than 60 million monthly active customers on BlackBerry alone and this figure is expected to multiply with the popular messaging app becoming available on the two most popular mobile platforms.