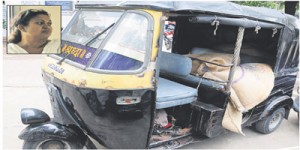 Nagpur News: The Jaripatka police on Sunday arrested a female school staffer and two others for stealing the rice meant for mid-day meal and selling it in black market. The accused have been identified as Sabhyata Nikhil Bagde (47), Prakash Parasram Gajghate (45) and Shrikant Bhagwan Surjuse (30).
According to details, the main accused Sabhyata Bagde works as a clerk at Samata Vidyalaya in Jaripatka area of the city. Though she is mere clerk at the school, she is kin of the school's director.
The Jaripatka police had got information about Bagde's activities from a source and were keeping an eye on her since last few days. On Saturday, Bagde stole six bags of rice from the school with the help of another clerk Prakash Gajghate. The rice was being taken to her home in Shrikant Surjuse's auto- rickshaw, when the police caught her red-handed with the rice near Trilok dhaba on Kamptee road. The police team comprised of police inspector Hanpude Patil, sub-inspector Jadhav, Shirsat and some constables. When the police quizzed Bagde and the other accused about the rice, they could not give satisfactory answers about it. The police brought them to the police station and interrogated them. The accused then confessed that the rice was from the school.
Police sources informed that the rice and auto-rickshaw seized from the accused was valued at ` 1.45 lakh. All the accused have been booked under relevant sections of the IPC. Police are investigating further into the matter.
It is worth mentioning here that that the police are strongly suspecting that this was not the first time that Bagde was selling the rice meant for the kids. "She was involved in this activity since long," said a source from the police department.