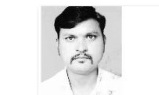 Nagpur Today:
A man, fed up with his illness, committed suicide, The man has been identified Devendra aka Chhotu Tryambakrao Ramteke, a resident of Trisharan Square, Rameshwari Road in Nagpur.
According to reports, Devendra was working as attendant at Centre Point Hospital near Medical College Square. He was a total liquor addict that is why his wife with their son had left Devendra and went to house of her parents. The police informed Devendra took the extreme step by hanging himself with the help of a piece of cloth in the Thurday morning. He was alone in the house.
Earlier, he was residing with wife Manisha and son Nayan. However, both the husband and wife were quarreling over the liquor addiction  of Devendra. Finally, Manisha went to her parents' house with son Nayan 20 days ago. Devendra was suffering from diabetes and doctors had warned to skip the habit of drinking liquor or else it will create serious health problem but he did not pay any heed to doctors' warning. Just two days back his health had taken a worse turn. His nephew had taken Devendra to a doctor and was with him for some days. Devendra's sister-in-law sent some food to Devendra in the morning of Thursday. But when his nephew reached the Devendra's house he started crying loudly after witnessing Devendra hanging to ceiling fan hook with help of a piece of cloth. Devendra was dead. Neighbours too rushed to the spot after hearing loud cries from Devendra's house. Ajni Police were informed about incident who reached to the spot and after preliminary enquiry sent the body of Devendra to Government Medical Hospital for post-mortem.
Police recovered a suicide note from Devendra's room. In the note he stated he was totally frustrated with his life and the illness. The addiction of liquor was so intense that he used to be drunk for the whole day that too without any food.  Two days back he suffered intolerable pain in his stomach.