Father pushes daughters into Sonegaon Lake

Nagpur Today: In what could be mentioned as pure insanity, a young man named Rajesh Keshav Mahajan aged 40, brought both his daughters, i.e elder daughter named Vaishnavi aged 8 years and younger daughter Jhanvi aged 3.5 years to Sonegaon Lake. He brought some eatables fed them and suddenly pushed them into the Lake. The onlookers and visitors, who were sitting on the benches on the banks, saw it and immediately called the divers living closer to the Sonegaon Lake.
Timely action by some youths of Sonegaon Lake saved life of both. The heartless father was trying to flee after the incident when nearby people caught him and thrashed badly.
However, tension spread near the spot as Sonegaon police used their powers to stop the youths from thrashing Mahajan.
Ashish Satpute, Shekhar Singh, Manoj Wanjari and two names as Sanjay and Pramod were among seven youths who rushed to help the minors. Satpute and his team are known as best swimmers in the area.
The father Rajesh Keshav Mahajan, fearing public wrath had hid into the Temple situated at the Bank of the Sonegaon Lake.
The Sonegaon Police was informed that the father who threw his daughter was beaten up by the crowd. So the cops rushed and took him into custody and sent him to Sonegaon Police Station. However, another situation was created when the police had to use mild lathi charge to disperse the crowd. This in turn angered the Sonegaon residents and they alleged, that whenever someone commits suicide or falls into the Lake, it is the Sonegaon residents who come to help. Why then were they beaten up by the police?
However In-Charge Police Inspector of Sonegaon Police Station, Senior PI P K Shaha and his team, pacified the angry residents and dispersed the crowd. The Police and Fire Brigade had reached the spot and had done everything to save the children.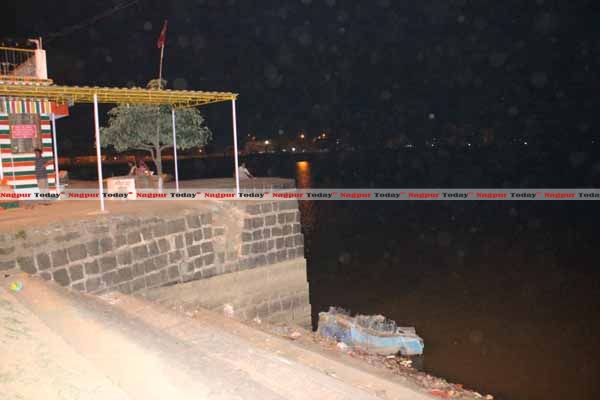 :::  Image by Vicky Thorat