Prof Jogendra Kawade, Smt Sulekhatai Kumbhare back Cong-NCP alliance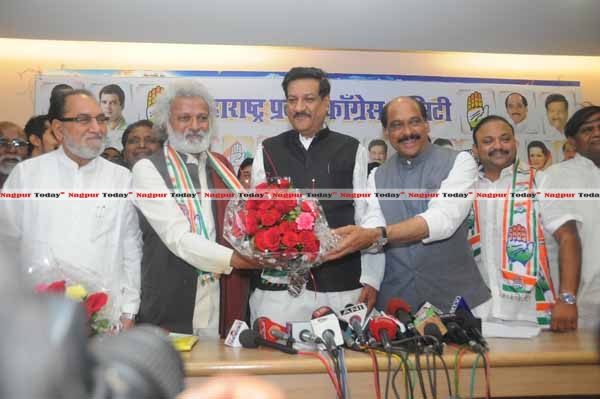 Nagpur News : People Republican Party chief and former MP, Prof Jogendra Kawade and Bahujan Republican Ekta Manch founder, former minister, Smt Sulekhatai Kumbhare  and Republican Party of  India (Democratic)National President, Kanishka T Kamble have announced their backing to the Cong-NCP front.
All  the three have announced their joining Cong-NCP front at a press conference convened at Gandhi Bhavan on March 19 evening.
Present on the occasion were chief minister, Prithviraj Chavan, Maharashtra Pradesh Congress Committee chief, Manikrao Thakre, industries minister, Narayan Rane, Mumbai Division Congress Committee chief, Prof. Janardan Thakur, MP Hussain Dalwai, Sanjay Dutt, regional spokesman Sachin Sawant ant other leaders.
In this press conference, Thane district Shiv Sena chief and former MLA, Yogesh Patil also entered Congress.
Chief Minister, Prithviraj Chavan welcomed all the candidates joining Congress on the occasion.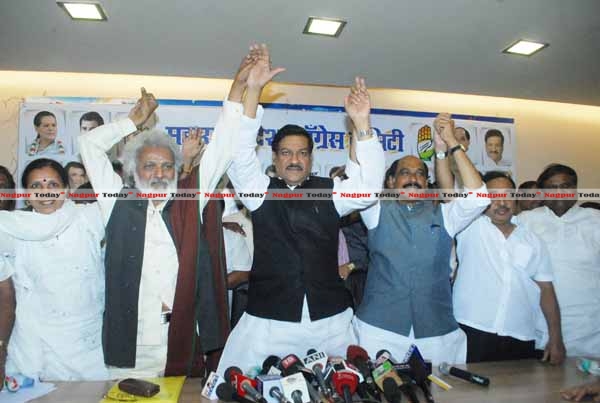 At this time expressing his stand on the current politics, Prof  Jogendra Kawade strongly criticized the opposition parties. He said these communal parties have conspired to create instability and anarchy in the country. He said they have discarded the parliamentary democracy and are praising presidential form of government. He said for tearing through the conspiracy, People's Republican Party has decided to back Congress-NCP front.
Sulekhatai Kumbhare  and Kanishka Kamble said that for avoiding the division of  secular votes that they are backing Congress. Shiv Sena leader joining the front, Yogesh Patil said that he will make great efforts for success of Congress party.
Congress regional chief, Manikrao Thakre said that the coming elections have made secular Congress Party stronger. Chief Minister, Prithviraj Chavan said that it is only Congress which can give country a stable government. He claimed in spite of false claims and propaganda of the opposition parties, they cannot impress the electorate. Chief Minister claimed that Congress will get maximum seats in the coming elections.